The Best Of The Best?
Back in the day I was the proud owner of Shimano's flagship Aspire pole. The very same pole that (back then) was also used by Steve Ringer. I had it for ages and used it for years, for all of my fishing. For this very reason I know Shimano's pole DNA is strong as that was a fantastic piece of kit that did everything I ever asked of it.
Fast forward to the present day and we're greeted with Shimano's all-new, flagship Aero Pro Competition. This pole, along with its less expensive Aero X5 and Aero X7 siblings (which I've reviewed in the previous two issues) have been 10 years in the making and feature the very latest Japanese materials with the very latest technology. Having tested the X5 and X7 already I was very excited to test the Pro version, and after a trip to Shimano's UK HQ to collect it we were soon on the way to Makins for what turned out to be a mega session on Phase 2's Reptile Pool.
All three of these new Shimano poles – the X5, X7 and Pro – are manufactured on the same mandrel. It's the materials used that differ to make this Pro model the very best offering Shimano is able to produce for the £4,999.99 asking price. Shimano is clear in saying that the Pro has been designed without compromise – and it shows! The graphics are sleek with the white/black on black finish and even just sliding this pole out of its holdall you know straightaway it's something special.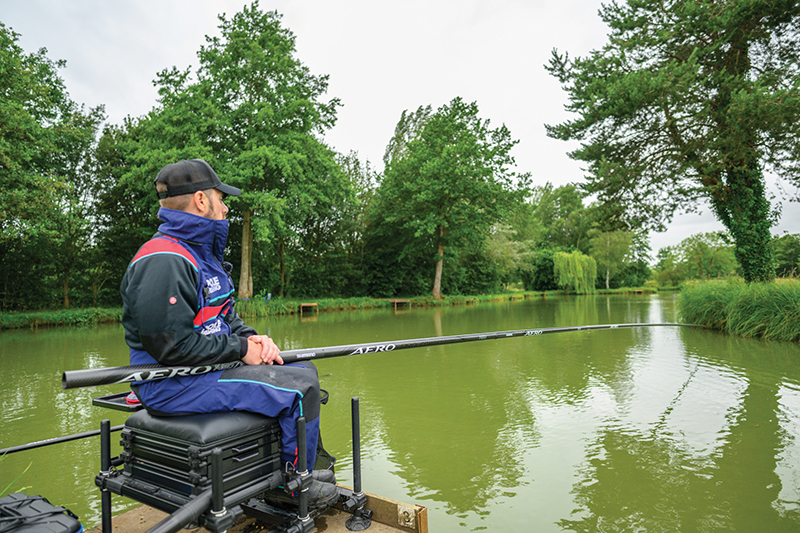 It is indeed a masterpiece and I would go as far to say that this is probably the best pole I have ever fished with. Now… I do have to add some context to that statement! I have fished with A LOT of poles over the years from many different manufacturers, however I haven't fished with ALL of the latest and greatest flagship poles currently on the market. So my statement is simply that it's the best I have personally ever fished with at the time of writing this.
The pole comes as a 16m package and offers a plethora of brilliant features to make it as user-friendly as possible. Aside from being super-stiff, responsive and very balanced at the full 16 metres it's also plenty strong enough to cope with the rigours and demands of modern fishing on all venues from slapping pellets on commercial waters to flat float fishing on deep rivers, thanks to both the highest quality Japanese materials that are being used here as well as Shimano's Advanced Taper Design. It's a pole for anglers demanding the best performance – most likely suited to higher end club and open match anglers who want to know they're never going to be caught short on any venue. It's a true-length pole and is designed to comply with FIPsed international rules, too.
When setting the pole up and assembling the sections the first point you'll notice is the finish. It ships easily through the hands and is definitely one of the best finishes (if not THE best finish) on any pole. It just ships in/out so well and as the session progresses this becomes even more noticeable. Shimano uses what it calls 'Ultra Sound Sanding' to achieve this – all I know is that it works! Really well.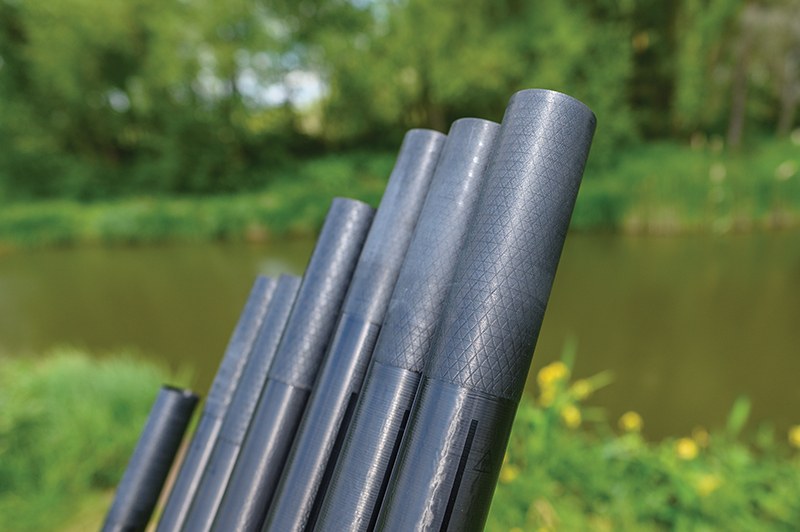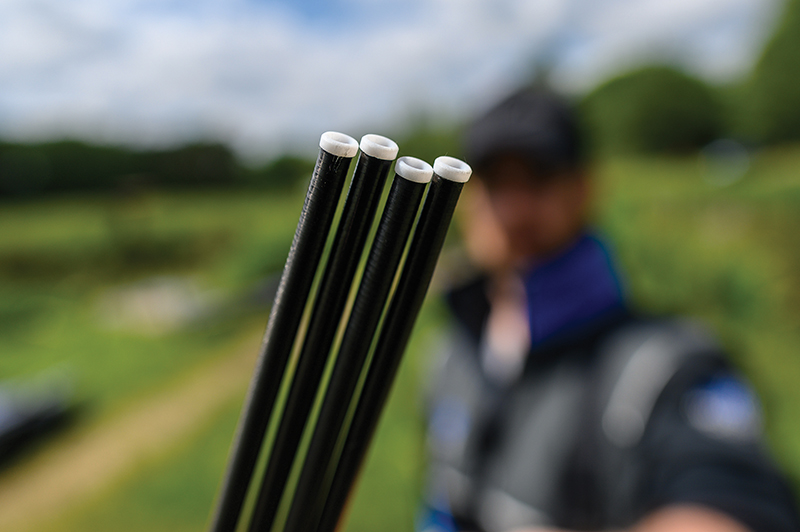 As you look more closely at each section you'll notice the extra carbon weaves that feature on the sections. This is Shimano's 'Aero Joint' – on the male joints the diamond finish prevents your sections from getting stuck together but also prevents them from working apart in normal use – clever. The female joints have a 1k weave and a cross carbon weave to reduce the chances of sections cracking under the pressure of your elbow or heavy use, too. There are also section alignment markers to ensure that, once lined up, you get absolute optimal performance as the spine of the pole is aligned.
The top kits then: there are three types available – Match, Power and one-piece F1 kits. They all come ready-bushed with PTFE so that's one less job to do. It also means there's no cutting of the pole required so you're not losing any of that expensive investment. There's a 40mm reinforced band on the top kits too, for fitment of a side puller (if you wish to). Or the tops can be elasticated traditionally with a standard bung or puller-type bung if you don't want to drill your top kits. The Match kits and F1 kits have an internal tip diameter of 4.4mm and the Power kits have an internal tip diameter of 5.0mm. The Match and Power kits are the same length and each fold into two equal parts for easy transportation. The tops also feature the brilliant depth marker intervals – perfect for checking/adjusting your depth in double-quick time. There's also an Aero cupping kit in the package, which is manufactured to the same length as the Match/Power kits. The top kits are also available in a grey finish as well. And, the pole is available as either a 13m or 16m package.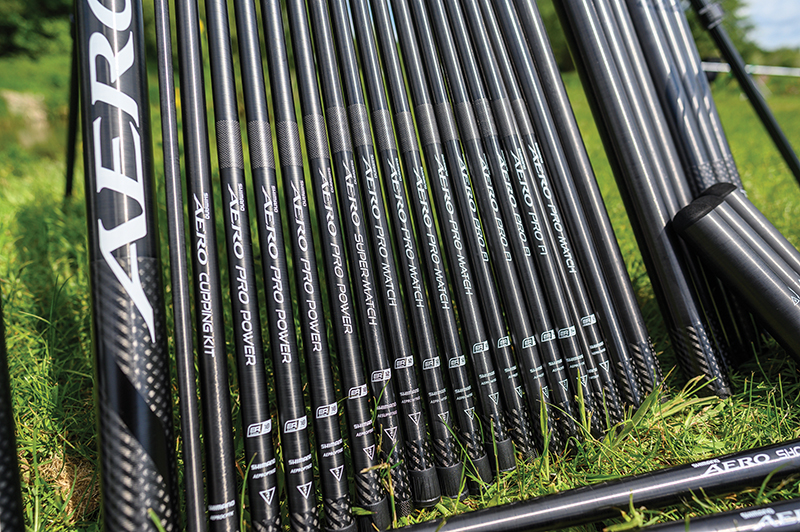 What about some of the other little goodies included in the package then? Well, you get Aero Pro short No3 sections, a shorter 13m extension, a shorter reversible 14.5/16m extension and three reversible Aero short protector joints. These are like mini dolly butts and are designed to sit under your elbow to help protect the sections from excess stress or damage when you're striking hard. These fit sections 5/6, 7/8 and 9/10. You also get a bespoke Aero holdall complete with tubes, which is a great touch. See the list below for the full 16m package details.
On to the session itself then. Well, wow, this pole is just everything you'd expect for 10 years of research and development with Shimano's top team. I've sat on Peg 3 on Reptile pool as it's 14.5 metres to the left-hand side of the island and I can add the 16m joint and go further alongside the island later in the session. I'm fishing hard 6mm fishery pellets in a small bait band, just so it's nice and simple, and loose feeding the same 6mm pellets to the island.
The quality of the finish is so noticeable in use – it's brilliant to ship. This is actually the second time I've had the pleasure of fishing with this pole and over the course of both sessions I have fished at various lengths trying all of the top kits, short sections and extras to get a really good feel for it. It's truly a superb pole and package and as carp after carp rips off around the side of the island it's evident it's a strong pole as well. The balance and stiffness is every bit as good as you'd expect and it copes well with some breezy intermittent crosswinds throughout the day as well.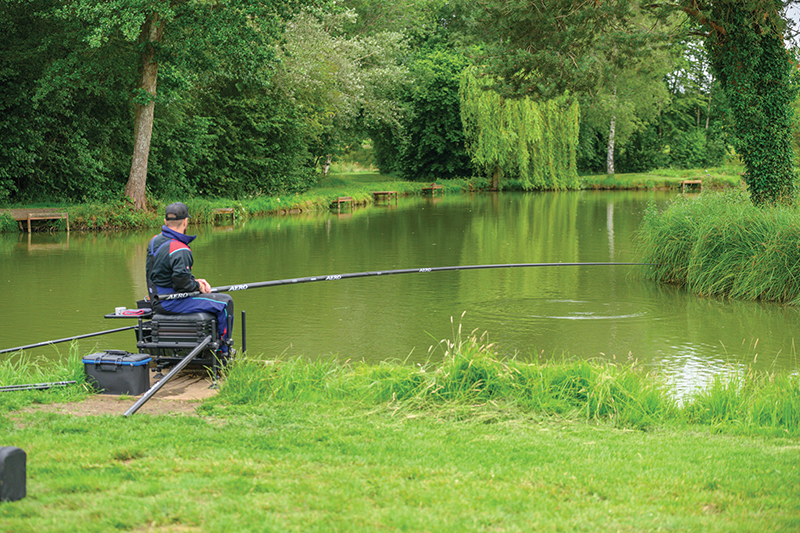 It's just a pleasure to use and as the session continues carp after carp tries their best to escape my 0.17mm line and barbless, eyed size 16 hook, yet none succeed. The pole is truly sublime and is every bit as good as any hype you may have heard. Time for a look down the left hand margin to finish the test, and sure enough they're queuing up for the 6mm pellets here as well. I'm pulling hard after striking as I need to get these carp away from the legs of the pallet that I'm fishing to. The pole handles everything I, or the fish, can throw at it. We end the session with a netful and the poise, rigidity and balance are testament to the years of development and materials used here!
Spares will be held in the UK, so there are no delays from sourcing overseas – reassuring at least as for many anglers this can be a key consideration. After-sales service can transform your purchase experience and from what we are told Shimano has this covered! Would I buy one if I was in the market for a new flagship pole? Absolutely, yes.
Quite simply this is, indeed, Shimano's best-ever pole.
RRP: £4,999.99
KEY POINTS
• Ultra-high quality Japanese carbon construction
• Enhanced Aero tapered mandrel
• All stated lengths are 'true measure' accurate
• Aero Joint, Reinforced Joint, Aero Alignment System on all sections
• Shimano Ultra Sound Sanding Finish
• All top kits are pre-bushed with a reinforced band for fitting puller kits
• Protector sections for all large sections to reduce accidental damage
• All poles supplied with Aero Pole Holdall and with protective tubes
AERO PRO 16M POLE PACKAGE
• 1 x AERO Pro Full Pole 16m
• 5 x AERO Pro Match Kit 250cm
• 4 x AERO Pro Power Kit 250cm
• 4 x AERO Pro F1 Kit 183cm
• 1 x AERO Pro Cupping Kit
• 2 x AERO Pro Short No.3 Section
• 1 x AERO Pro 13m Extension
• 1 x AERO Pro 14.5/16m Extension
• 3 x AERO Reversible Protectors (fitting sections 5-10)
• 1 x AERO Pole Holdal
WEBSITE: www.fish.shimano.com
To find out more about the Shimano's flagship Aero Pro Competition pole, watch the video below.