Pure Class! The All-New Daiwa Airity Pro!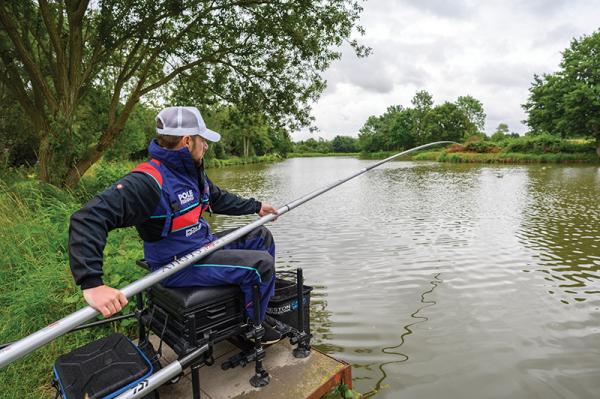 Daiwa's previous Airity pole is one that has gained a huge following. However, believe it or not, I've never fished with one! This is my first Airity pole experience and what better way to do it than with the all-new improved model for 2023!
When it comes to poles the cult following that Daiwa has is borderline legendary! For years it has been seen as one of the most popular go-to manufacturers for flagship poles. I think not only because the products are evidently top class within their respective price brackets, but also because of Daiwa's uncanny knack to retain very good residual values, such is the quality and demand for them. To many anglers this is a key benefit - you get an absolutely top quality pole, yet when the time comes to upgrade there's always a strong second-hand market eagerly waiting.
The Airity Pro is aimed predominantly at commercial water angling and, like its predecessor, it's built using the supremely popular, tried and tested Tournament mandrel. Being built on the same mandrel means that if you already own spare Daiwa top kits and/or sections/extensions from this era of pole they'll all fit – a huge benefit and no doubt another reason why the Daiwa platform is so popular.
So where does the Airity Pro sit within Daiwa's pole range? With an RRP of £5,600 and current promo price of £3,699 for the 16m package it sits just one notch below Daiwa's flagship offering – the £7,150 Air Z Pro.
Daiwa's aim with this pole was to build on the Airity's strong heritage, yet offer even sharper response and better balance. They've gone about achieving this thanks to a combination of upgraded Japanese carbon, the latest technology and Super MSG Nanoplus. Assembling the pole at the lake it's clear that it's another exceptional piece of UK-made kit.
There are two package options available, badged as the 'More Power Package' and 'More F1 Package'. The More Power includes eight kits: four Pro Commercial 4.7mm kits, four Pro Power 5.8mm kits and a Professional Cupping kit. The More F1 package also provides eight kits: four Interlastic Speed 5.8mm kits and four Pro F1 4.7mm kits as well as an F1 Cupping kit. These packages feature the latest professional top kits and the refined professional Speed and F1 kits respectively. Both packages also include PMP 5/6 and 7/8 short reversible extensions. The pole itself is supplied with the improved 2.4m two-piece match kit also. Designed with a PTFE bush and a pre-bore reinforcement it has two near equal length sections so it neatly folds away for easy storage.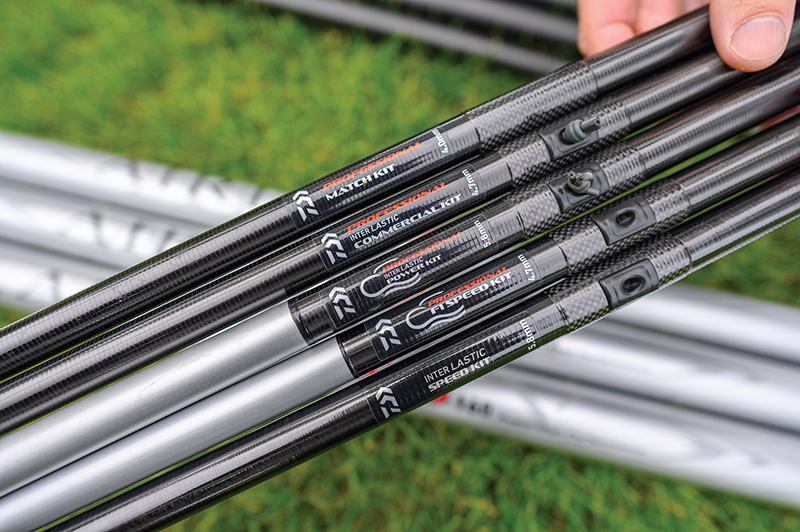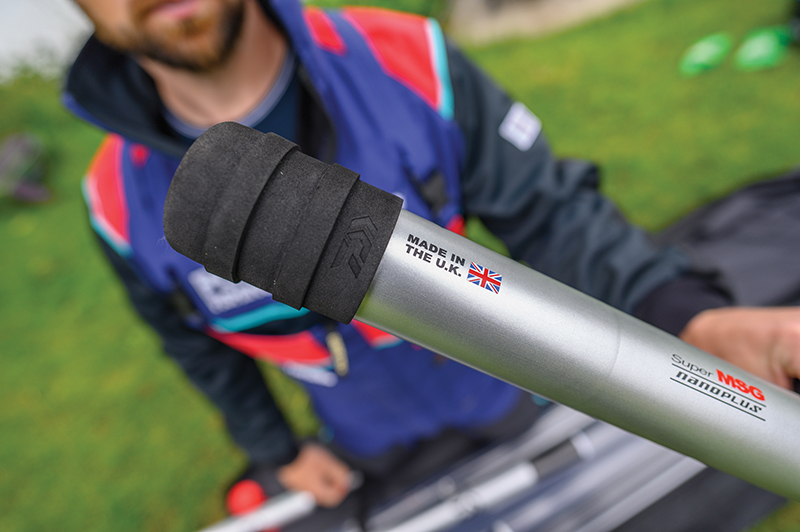 Significantly Daiwa has redesigned its top kits and it's definitely worthy of talking about here. These new tops will pave the way forward from this point for all UK-made Daiwa poles. Crucially there are seven different 2.4m Professional top kits, with the Air Z Pro packages also being updated to include these as well. This includes the Professional match kit included in the 16m pole, which features a larger 4mm bushed tip instead of the 3mm version featured on its predecessors. Next is the Professional Commercial kit, which replaces the old 4.7mm Power Kit. These are designed for commercial work primarily as the name suggests with a 4.7mm bushed PTFE tip and a factory-fitted side puller. These are ideal for up to a black Hydrolastic and are more refined than the old power kit they replace – available in both black and grey 'Cloud' finish. Next up are the 5.8mm Power kits – again both available in black and grey Cloud finish – designed for bagging and featuring a different taper to the Commercial kits. The slower taper allows for a stiffer kit, which can be used with red Hydrolastic – this kit is designed not to bend as much when playing fish either.
Next are the F1 kits in black and Cloud finishes featuring a 4.7mm PTFE bush. These are 1.8m one-piece top kits and have been refined for use with up to a grey Hydrolastic. Daiwa continues to offer its 'Speed Kits' as well, which are beefed-up one-piece top kits that will take much heavier grades of elastic. A Professional Cupping kit finishes the seven-kit line-up.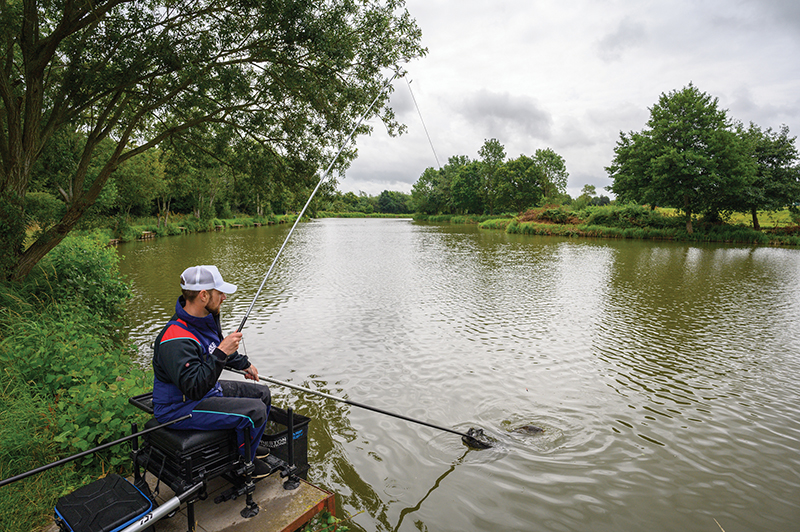 The reversible PHEX911 extension has also been redesigned and is now lighter, too. This is designed to fit the 12m, 13.6m and 15.2m sections, taking the pole to its full length. Fitted with EVA foam nose cones makes assembly far easier, especially when going to full length. They also happen to float if you get caught out by a gust of wind – good to know, hey! Also upgraded in material, specs and featuring EVA nose cones are the smaller PMP 5/6 and 7/8 reversible extensions. These not only aid reach a little bit when fishing short but primarily exist to provide a reinforced handling area, protecting main sections from unnecessary strain and compression. You know how you can sometimes get carried away leaning down on the section and striking too hard… well, this is your answer. Each is included with either kit package.
There is also a 2.4m Professional cupping kit, which is an innovative design offering a take-apart top that is only 65cm in length. Once detached it's ideal for scooping bait into the cup easily. Another simple, yet effective upgrade to the system. The high diameter also accommodates the cup insert attachment perfectly.
The finish is certainly something to talk about too and is what Daiwa calls its 'slide easy' ITS Integrated Taping System. It now covers five sections from the No4 to the No8, whereas previously the No4 and No8 sections didn't feature the ITS taping. The No9 to No11 are finished with Daiwa's Diamond Satin – a proven winner. Both ITS and Diamond Satin are designed to offer the optimum shipping performance, regardless of the weather conditions. And, like most top poles nowadays, Daiwa's long-standing section alignment arrows allow you to line up the spine of the pole for optimum rigidity and performance. The No3 sections feature PTFE nose cones, including those on the two-piece top kits.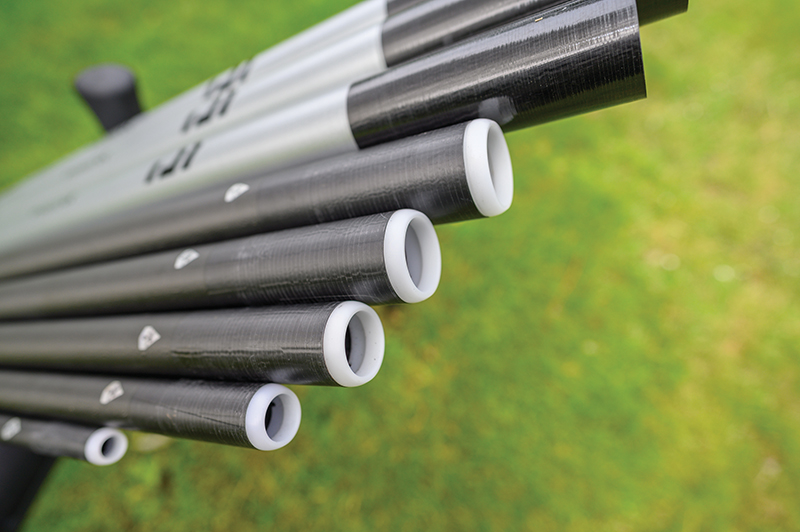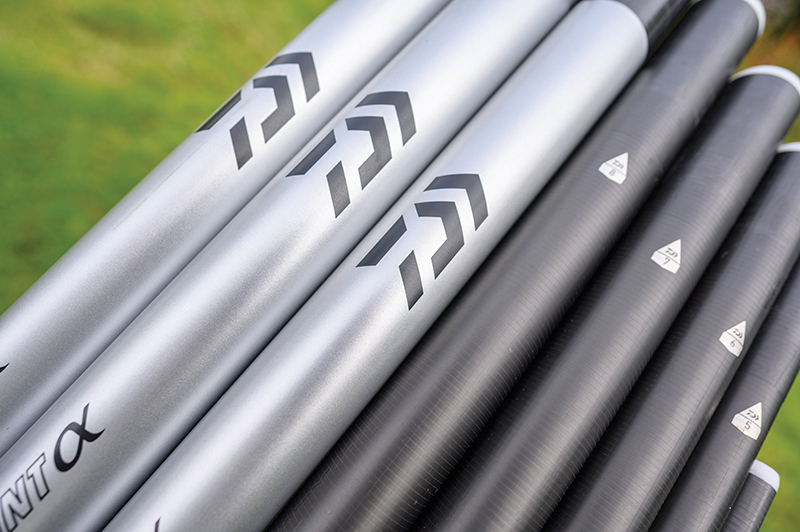 The session then – back to Makin's, on Phase 3 this time and a lovely peg on Severn Pool. A long shallow line in the open water and a long edge line to test the pole at its longest lengths. Fishery pellets and a tidy little 4x10 float mounted on 0.15mm line to a size 16 eyed hook and a banded pellet. I've set up two of the Daiwa Rockin Rollers behind me for silky smooth shipping too (check out my review of these in the previous issue). The fish are showing just 10 minutes into the session and slapping a 6mm pellet soon has them climbing up the line for more. I wanted to fish this way (slapping) as it's a key requirement on today's commercial fisheries and one of the key tactics this pole has been designed to withstand. Slapping a rig hundreds, or thousands, of times during a session is strenuous work for a pole, yet the Airity Pro is designed to take it in its stride.
It's very easy to slap a rig with this pole, if that sounds like it makes sense, quite likely due to the way it has been designed. And, trying all of the different top kits out you can really feel the difference between them, in a good way. I've always been a huge fan of short one-piece top kits and use them exclusively for my fishing. These new, more refined versions feel great yet so do the Commercial and Power kits as well. The carp are queuing up and at times literally dragging the pole tip into the water as they intercept the slapped pellet moments after it hits the surface.
What can I say to conclude? Well, as I said at the start this is my first Airity experience and I'd certainly go back for more that's for sure. The pole looks absolute class in Daiwa's silver finish and performs just as well, too! It's no less than you'd expect from a high-end pole produced by Daiwa and the refinements will surely be appreciated by Daiwa diehards and newcomers alike.
Promo Price: £3,699
More Power Package
• 16m Pole
• 4 x Professional Commercial Top Kits
• 4 x Professional Power Top Kits
• 1 x Professional Top Cupping Kit
• 1 x PMP 7/8 reversible EXT
• 1 x PMP 5/6 reversible EXT
• 1 x Cup Set
• 1 x Holdall
More F1 Package
• 16m Pole
• 4 x Interlastic Speed Kits
• 4 x Professional F1 Top Kits
• 1 x F1 Cupping Kit F1CK1-AU
• 1 x PMP 7/8 reversible EXT
• 1 x PMP 5/6 reversible EXT
• 2 x Short No4 sections
• 1 x Cup Set
• 1 x Holdall
WEBSITE: www.daiwasports.co.uk
To find out more about the all-new Airity Pro pole package, watch the video below.