The Big Adventure...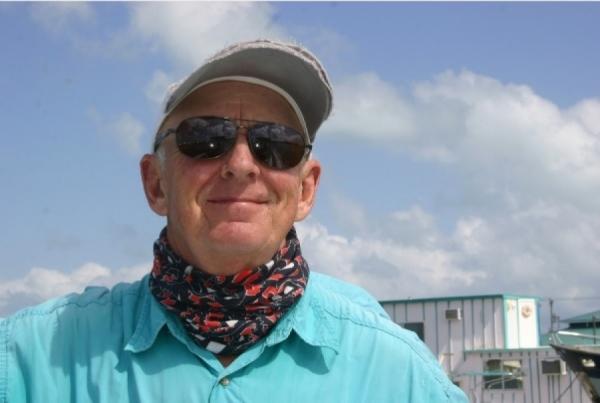 Top matchman Roy Marlow and crew go in search of big game fish...
The team of weary anglers has arrived for the umpteenth Big Adventure in Key West Florida. The team of shipmates have been getting very excited about this trip, thousands of pounds worth of new tackle is with them, mainly through the courtesy of Daiwa Sports and its Managing Director, Cruncher Morley, who will be joining the team next week.
This year we have a split 14 days of fishing with three members departing after seven days and fresh fodder arriving for the second week.
The 'A team' for the duration consists of our Chief Purser Keith Arthur, whose organising skills are better than the rest of the crew put together. This may appear to show that Keith is very smart, this is difficult to confirm, though, as some of the shipmates are not the brightest spanners in the box.
One of the dullest spanners is Crispy Duck. We try to nominate a new playmate every day. This is difficult because Crispy has the best credentials for being playmate of the week…the month and the year!
It would only be fair to say at this point that we often use an alias to protect the innocent and before we put anything into print it has to be substantiated by two other crew members.
Talking about Crispy Duck, whose real name can't be mentioned, it has been suggested that he should not be allowed out without adult supervision.
On the more intelligent side is old shipmate Garry the Grouper (Garry Evans) famous because of his epic battles with Goliath Groupers.
Joining the crew this trip is Dangerous Dave (Dave Keep). We haven't actually given him an official name yet, but we are sure it won't take long to find him one.
That just leaves Admiral Marlow, who has often been criticised for flogging various shipmates close to the critical pain barrier. Marlow obviously loves watching people suffer and his bad elbow story is legendary.
We hope you enjoy this epic adventure in sunny Key West...
We know its tough and we wouldn't want any one to have to suffer what the shipmates go through, we just want to bring you a story of grown men acting like children in paradise.
Day 1 saw us all on the dock at 7.30am and the plan was to go tarpon fishing. The wind was gusting 20mph but with partly cloudy skies and 84 degrees, tarpon looked a good bet.
Dangerous Dave was with Mugger Marlow and our Captain was Captain Kevin. It wasn't long before we were at our secret location and we were the only boat there.
To cut the story short we started fishing at 8.15am and by midday we had hooked 12, which by any stretch of the imagination is awesome.
Mugger Marlow played his 'bad elbow' card with Dave meaning that Dave had to fight all of the fish. Even Captain Kevin felt that this was extremely cruel and the practice should be abolished. It didn't wash with Mugger who just laughed and said that it was initiation day for Dangerous Dave. After several fish we thought we had a piglet on board, as the squeals got louder and the back pain more intense.
At one time under the boat was black with tarpon and they were getting bigger.
Dangerous Dave was now Painful Dave.
Mugger said enough was enough after Dave fought a 100lb of tarpon to a standstill; actually the reason was that Mugger thought Dave might collapse if he had any more pain and he didn't want the day out shortened by a visit to casualty!
A quick meeting and we decided to go shark fishing at a new location.
Painful Dave was now hooking huge nurse sharks every drop down, most around the 200lb mark. Mugger Marlow just kept saying that he had to take photos and the rod was always passed to Dave.
We reckon that the combined weight of the fish that Dave played today was way over 2,000lb. His new official name is Nursey Dave.
This is only Day One and Nursey Dave has passed the test. He is aching badly and may have a broken back. It just shows how tough it is out here in Key West.
And finally a few words from Dangerous/ Nursey Dave: "As the new guy on the trip and after hearing so many stories of fantastic catches, I wondered if it would ever happen for me… well today it did! But I need to clarify before I go any further – none of it would have been possible without Roy's guidance and kindness [that must be a misprint], and to be fair, he hooked up virtually all the fish, but then he would suddenly get a recurrence of his damaged elbow and insist I took the rod! I've had tarpon to around 100lb (man that fight was painful!) and shark to around 200lb (about six of them!). And this is just the first day! Thanks Captain Kev and Roy – I'm one tired but happy angler!"

Dave continued: "On my first trip out to Key West with that gang I caught a big nurse shark on the first day. I was so proud of myself and then when telling the waitress in 'The Raw Bar' about my exploits, she gave me a funny look and said: 'Hun (short for Honey…not a nasty German!), that's like catching a puppy dog.' One deflated UK angler!

I will give more updates on our exploits later this week...