Chop & Change - Des Shipp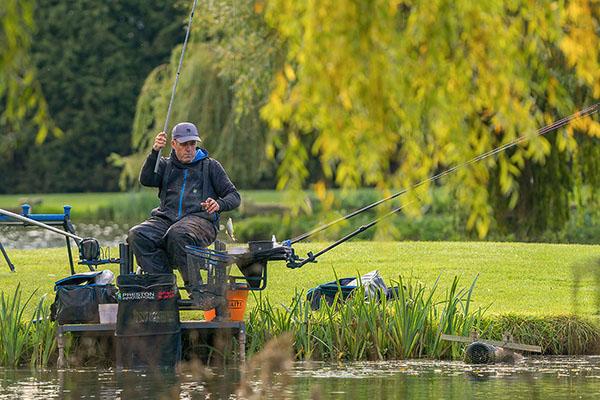 We join Des Shipp at Willowmarsh Fishery for an insight into how he tweaks his silver fish tactics to adapt to a certain fishery and their rules.
When the water is still cold during the winter and spring, there's a change in focus for match anglers to keep bites coming. Silver fish leagues are run on many venues up and down the country and on commercial fisheries in particular, these have become more popular than ever in recent years.
These fish get ignored during the summer simply because nobody wants to catch them when carp and F1s are needed to win, but now it's getting colder they become more and more important in matches, or the prime target if it's silver fish only.
Approaches to catching silver fish are varied to say the least and every fishery has its own killer bait or tactic that outscores all others. But what if your fishery bans groundbait? And what if there's still a chance of catching a bonus tench or F1 in with the silver fish, how do you approach it then?
Well, here at Willow Marsh Fishery near Kidderminster, they are exactly the problems you need to overcome and today I'm going to show you how I approach this type of venue when targeting silver fish. I'm sat on Whispers Pool, which is the middle of the three lakes onsite, and there's a good head of roach and skimmers in here as well as tench, F1s and carp.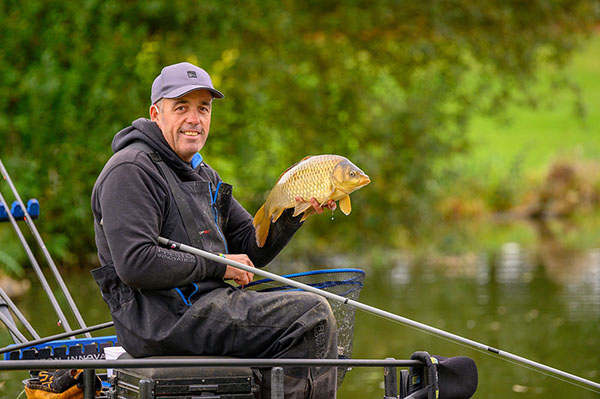 Like I said earlier, silver fish matches or festivals are now very popular during the winter and although carp are often banned in these (or they count as 1lb), fish like tench and F1s can provide a welcome bonus. But how do you feed the peg when groundbait is banned like it is here at Willow Marsh, and what tackle and tactics are best employed to target silvers but also give yourself a chance of nailing those bonus fish like tench?
This is the first time I've ever fished this lake so it will be interesting to see how the day unfolds. I know there's a good head of silver fish and I know there's also lesser numbers tench, bream, F1s and carp.
As the weather gets colder the tench, bream and F1s can be hit and miss and if you target these bigger fish and nothing else, you really can come unstuck. It's far better to do it the other way round and mainly target roach and skimmers and then if those bigger bonus fish come along at some point then that's all well and good.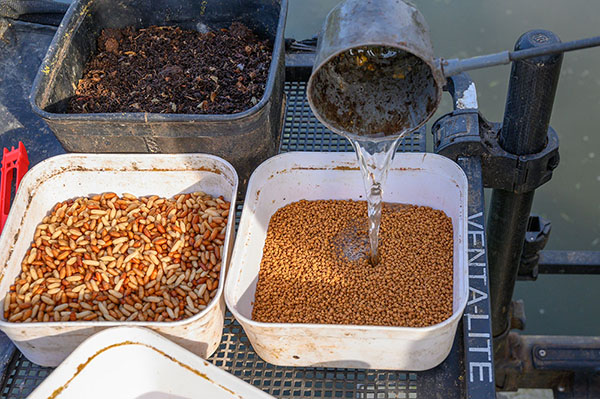 On these venues where feeding groundbait isn't an option, my way to fish for silvers is to fish at 11 metres in the open water with chopped worm and micro pellets, and short on a two-plus-two line with a small amount of chopped worm and also casters. In summer you can easily catch on a two-plus-one line on the inside, but now it's getting colder the water is also getting clearer so it makes sense to fish that extra section further out.
I'll also feed another line at 11 metres but further to my left where the depth is exactly the same so I don't have to bother with changing rigs for a different depth. On this line I'll just feed casters because chopped worm is one of those baits that can be deadly for all species of fish, but on other days it can act like a repellent and the fish won't go near it.
I love fishing chopped worm at this time of year though and for silver fish it's deadly… most of the time! My plan is to always start short because you need to give that long line time to settle. How long you leave it all depends on what happens on the two-plus-two line, the better that is the longer the amount of time the long line will have to settle. If the short line is really good, you might be topping up the long line three or four times before having a look on it.
On the opposite side of the scale, if the short line isn't productive you'll be going out long after just a few minutes because you can't afford to spend the first 45 minutes or an hour catching nothing on these silver fish matches.
It might seem wrong to some, but I also like to loosefeed a few casters in the margins to my left and right because this can be a great place to catch roach in winter, especially later on in the match so I always feed it because it's another option and so should you.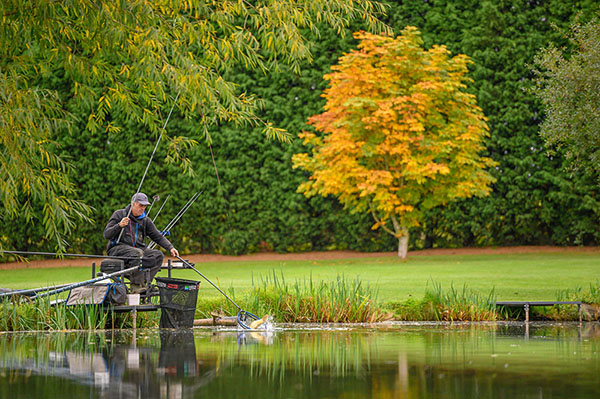 Rigs wise it's pretty straight forward. The depths (around five feet) are very similar on both the two-plus-two and 11m lines, and the second line at 11 metres is exactly the same depth as the other. I've got 4x14 F1 Maggot rigs for fishing both distances and these are simply shotted with a bulk on No9 shot with two No 9 droppers below down to the 0.11mm hooklength to size 18 or 16 SFL-B hooks.
Elastic is No9 Dura Hollo which is perfect when you're expecting mainly silver fish but with the odd bigger lump thrown in into the mix. My other rig is a 4x10 F1 Maggot shotted with No10 shot spread below the float and this rig is for fishing in the margins and it also doubles up as a shallow rig.
I've not mentioned catching roach shallow but this can be deadly on this type of venue, especially if you can start catching shallow on the short line where you can feed out of your hand. Elastic on the shallow rig is my favourite No6 Slip which I don't think you can beat for this sort of fishing. Main line on all my rigs is 0.14mm diameter.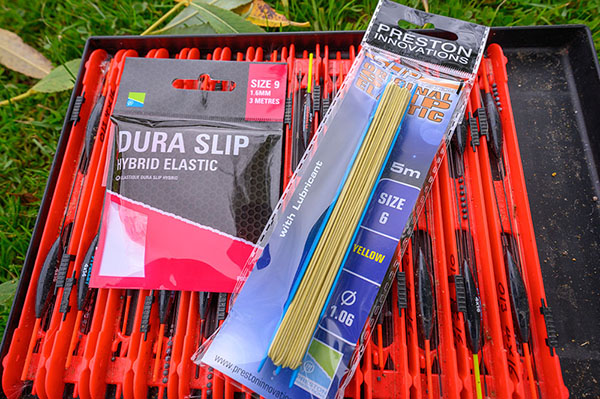 The side tray is quite simple and I've got plenty of dendrabaenas for chopping and for using on the hook, a couple of pints of casters, some 1mm micro pellets and also a few maggots which I always bring to get me out of jail if the main baits don't work. To prepare the micros I add just enough water to cover them and then I leave them for 20 minutes so the water soaks in.
I separate about 250g of worms for chopping and the main thing here is to make sure they're clean and have most of the peat removed. I either let mine ball up so I can just take a good handful to chop, or I'll just run them over a riddle to clean them.
I never chop them all up at once and today, because I'm hoping to get a bonus tench, bream or F1 as well as roach and smaller skimmers, I will chop them so there's a mixture of small and larger pieces that will appeal to all fish. I then add some micros, which is my substitute for groundbait, and then mix them in with the worm and I'll make a ball out of this for feeding.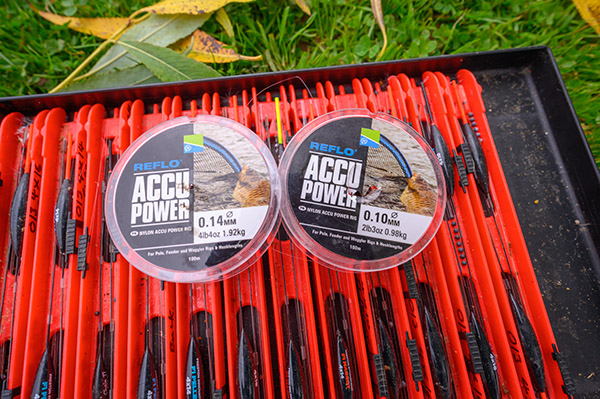 One satsuma sized ball with go on the 11 metre line and I'll also feed a small 'nugget' on the two-plus-two line. On the secondary line at 11 metres I'll be dumping a pot of casters only and it's important you do this just in case that chopped worm gamble doesn't pay off. Incidentally, I'll always add my pellets and worm to a separate bait tub as I go along so it's easy for me to alter the ratio of these baits that I'm feeding.
If groundbait was allowed here I'd maybe feed four balls straight out in front and one ball on my secondary 11 metre line. It's important to have a positive and negative line here because if that short line doesn't work and I need to go long quicker than I wanted, I can fish the negative line and hopefully catch some fish while still giving the main line time to settle.
Sometimes the positive line won't come alive until the latter part of the match or on other days, it might not come alive at all. It's all about giving yourself options and altogether I've got five lines on the go today. It's a similar principle to how canal anglers will keep lots of swims fed and ready to go so they can chop and change frequently to keep fish coming.
With all the swims fed I went out on the two-plus-two line to start the session and one of the great things about fishing with chopped worm is that it's positive. I've gone straight out with the head of worm on a size 16 hook and I knew if I could catch on this it would be brilliant because it's so easy and I can catch several fish before I need to change my bait.
Being able to feed out of my hand on this line is also a massive plus and for now that's all I need to concentrate on because I'm leaving those two longer lines for the time being. The float buries on my first drop in and rather than it being a roach or a skimmer, I manage to catch a gudgeon to get off the mark!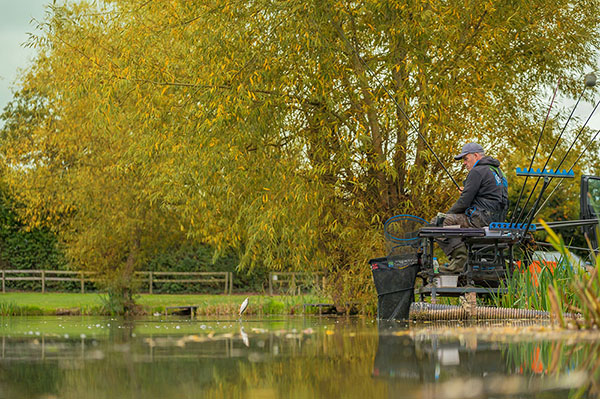 My next drop in produces a roach though before the 'gonks' show again and after 15 minutes and a not a lot to show for my efforts, it's started a lot harder than I thought it was going to be. I've fed the inside again a couple of times and with my last three fish there being small perch, it was time to go out long.
Like I said before, you need to be catching to stay on that short line because if you stay there too long when you're not catching, it's just wasted time. I decided to go straight over my main line at 11 metres to see what was there because there was the odd bubble coming up soon after I introduced that initial feed.
With the head of a dendrabaena on the hook I only had to wait a minute before the float slid away and I found myself playing a big fish. It was obviously a carp or an F1 but it justified my choice of the No9 Dura Hollo elastic because I soon had it under control and sliding over the landing net. It was a big F1, not what I was expecting but I'll take it and if these fish are going to feed I might have got my tactics all wrong today!
Things returned to something more like what I was expecting after that and I managed to catch some roach on the worm, but it wasn't hectic fishing by any means so after 20 minutes I decided to feed another ball of micros and worm here and move to my negative line to the left where I dumped a pot of caster at the start of the session. This was more like it and by fishing a piece of worm over the casters I began to catch roach consistently and even had a couple of bonus tench and another huge F1 to boot.
It just goes to show that feeding a positive and negative line is so important, although I wasn't 100 per cent sure if it was the amount of bait they didn't want or the worms. The fish were certainly having the worm on my hook though! Because I was catching I was dumping in casters every time the swim needed another feed (every 25 minutes or so) rather the loosefeed or pot in casters every drop in.
When catching on the bottom less consignments of more feed are generally best whereas if it was harder or I was targeting smaller fish, smaller amounts fed regularly would be the way to go. I also started loosefeeding casters by hand on my two-plus-two line because the roach were clearly feeding and I fancied I could catch them shallow.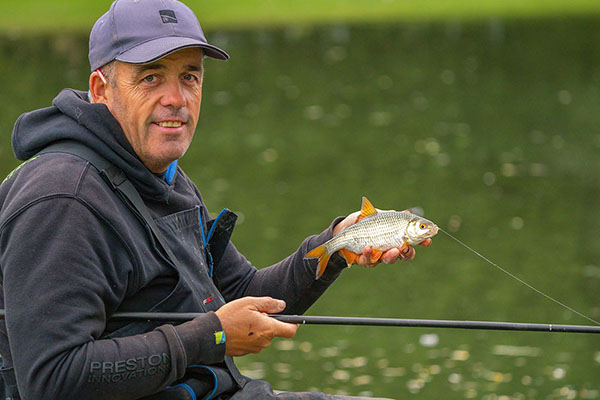 As good as the negative 11 metre line was, I'm always looking for a way to catch faster and with a couple of hours of the session remaining, I wanted to see if I could catch shallow. With my strung out 4x10 F1 Maggot rig set at two feet deep in five feet of water, I was grinning from ear to ear when the float buried first drop in and a quality roach was on its way in… they were there!
It was then all about capitalising on this opportunity and I reckon from the that first drop in until the last, I had a roach ranging from 3oz to 10oz. I was interrupted by an F1 that broke that pattern and tested the No6 Original Slip elastic that I was using with this rig, but as far as roach fishing goes this was as good as it gets and proved that if you can catch them close by feeding out of your hand, you're onto a winner.
Swapping between caster and pieces of worm on the hook kept the roach coming as did the odd change in depth but when it's like this you just need to keep everything nice and smooth and get into your rhythm of catching fish.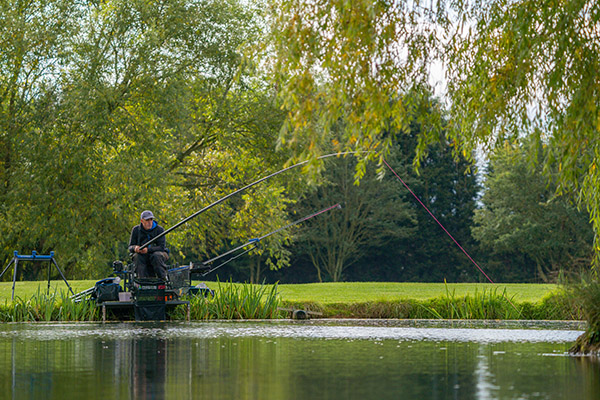 Catching silver fish in winter is all about giving yourself options and that's exactly what I've done today because when one option doesn't work you need another one to switch to. After not catching a great deal on the inside line I was quick to move because I didn't want to waste any time, and then I also moved because the main 11 metre line wasn't as good as I needed it to be.
I then created another option by beginning to loosefeed casters on my two-plus-two line and when I went on that shallow it was brilliant. I still had those margin swims to my left and right that I could have also moved to but on the day there was no way I was leaving those pristine roach feeding shallow. And that's another good lesson, once you've found a way to catch what could be a winning weight, stay on it and make it pay!