Up Close: Browning Xitan Luggage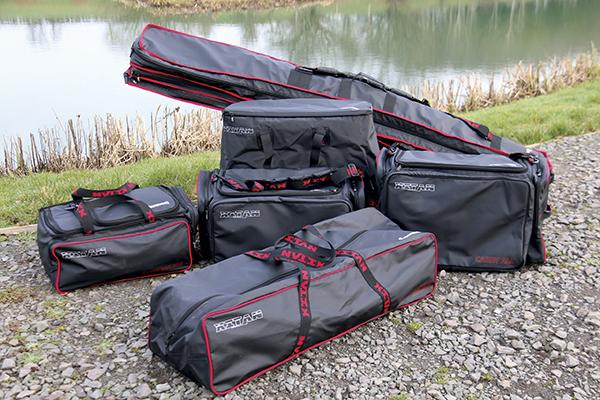 Browning is a brand name synonymous with quality and its latest range certainly doesn't disappoint. What is amazing though, is the price, as this is a new mid-range luggage set, designed to be a more affordable alternative to the top range flagship Sphere luggage.
To me, the Xitan range looks absolutely incredible – big robust zips, reinforced seams, toughened bases to the bags and made out of a stylish, smooth finished, waterproof and wipe clean material. What's more, every item in the range sells for less the £100, which has me asking: if the Xitan is this good, the Sphere range must be unreal!
Anyway, I digress. Let's take a look at what the set has to offer.


Xitan Pole Holdalls
Three different sizes of pole holdall are available. The Medium holds six tubes in its main padded compartment, plus other accessories in a smaller second compartment. The second compartment is split into three sections with a full-length compartment one side for umbrellas and landing net poles, plus two half-length compartments the other side for items such as banksticks, dolly butts and measuring sticks, or even longer seatbox accessories like feeder arms.

The Large goes one compartment bigger, allowing it to hold 10 or more large tubes in total.
Finishing off the range is an XL version, which has the same capacity as the Large but is an extra 15 centimetres longer to make it a massive 205 centimetres from top to bottom to allow it to accommodate XL length poles such as the Z16.

The zips on the main compartment on all bags are amazingly smooth and free running and cover almost the entire length of the bag, making it very easy to close even when full. Internal elastic straps also help with organisation and a nice touch is a strong handle at the base to help when loading into a car or van. The shoulder strap is also padded and comfortable. The biggest items in the range fetch the highest cost yet are still kept to under £100 for the XL version and as slow as £79.95 for the Medium.

Xitan Feeder Bag And Carryall
I have lumped both of these items together as they are both carryalls, with the smaller one having feeder anglers and their minimal kit in mind. Both have a similar design with a large central compartment, large front flat compartment as well as two spacious side pockets. The overall shape is quite slim to accommodate longer accessories and take up less room on a barrow. Both feature a thick end base with two nylon skid bars to prevent damage when being slid out of a car or van.



In fact, apart from the size, the only difference between the two is the larger carryall has an open front compartment designed for side trays while the equivalent on the feeder bag is zipped. The padded shoulder strap is also removable, and both feature the additional side handle to help when manoeuvring.

The feeder bag is a nice 72 x 39 x 40 centimetres while the carryall is small amount slimmer but taller at 72 x 37 x 62 centimetres. Prices are from £44.95.
Xitan Combi Bait Bag
This has to be my favourite of the range as the design is superb! The largest central compartment is a fantastic thick-walled cooler section. Next to this is a padded storage section, which can be used for carrying items of tackle or bait that doesn't need to be kept cool. I would envisage keeping maggots, casters and meat etc with cooler packs in the cooler section while bags of groundbait and pellets, which need to be kept at ambient temperature, are stored in the second section.

With a large front pocket and good-sized side pocket, the bag could even be used as a mini carryall with an in-built bait section. A lovely adaptable bag with a multitude of uses measuring at 50 x 33 by 24 centimetres tall and costing £44.95.
Xitan Roller And Accessory Bag
The most affordably priced item in the range mostly due to the stripped back features. Using the same high-quality zips and material, there are no shoulder strap or padded walls, along with just one large compartment, meaning both sizes of bag come in incredibly low priced.
Ideally sized, these are great bags in their own right and will no doubt be bought as individual items as well as part of a full set. Still strong and durable, the medium measures 85 x 30 x 25 centimetres and costs £27.99 while the bigger 100 x 35 x 25cm large bag costs £31.95.