Dent Does The Damage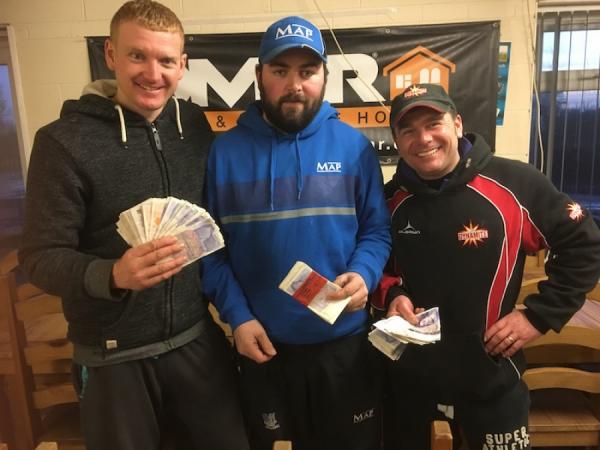 England ace smashes Lindholme league.
England International, and MAP backed super-rod James Dent has won the inaugural Lindholme Lakes Natural Baits league, by a comfortable two point margin.
The league – which was contested by some of the UK's top rods, held its final round in fine conditions last Saturday. Anglers taking part included Alan Scotthorne, Matt Godfrey, John Allerton, Nick Speed, Mick Vials, Tom Scholey, Lee Kerry and Emma Pickering – making it among the most prestigious leagues in the country.
With anglers dropping their worst result, the league was far from a foregone conclusion with some competitors leap-frogging others on the table on the strength of their dropped score.
One such angler, who managed an emphatic comeback was James's England stablemate, and Guru backed ace Matt Godfrey. Matt was able to drop a near-disastrous eighth in section and finish with a ten point total from his other five results.
Sean Cameron took third place, after a mega- consistent league, dropping a fourth in section to finish on eleven points.
On the day, it was Browning ace James Hall who made the most of the previously unproductive peg 70 on Bonsai, to win with a fine 36-15-0 net of skimmers and F1s. James caught skimmers and F1s on maggots fished over groundbait.
Tom Scholey, who co-organised the league with Matt Godfrey and Lee Kerry said: "We are really happy with how this league has gone, and the calibre of angler that it has attracted certainly made it among the most prestigious winter events in the country. The thing that has really got people talking though is the payout – James picked up £1,000 for winning the league, and ninth place picked up £150, so there was impressive money to be won for anglers who performed well.
"This is thanks in no small part to the generosity of venue owner Neil Grantham, who offered us discounted pegging, which allowed us to boost the payout considerably. The dates for next year are booked already – with the first round of the league taking place on the first Saturday in January, and running for the next six consecutive Saturdays.
We have already secured two of Lindholme's finest lakes – Bonsai and Laurels for all these dates, which should make the fishing even more prolific than it has been this year."
With places limited to 50 anglers, anglers are advised to book on with Lee Kerry on 07739 342929, Matt Godfrey on 07917 711722 or Tom Scholey on 07971 620489 if they want to be sure of a place next year.
As with this year, the Natural Baits League will be pole only, float only, with a 16m limit, and carp will not count. Allowed baits are maggots, casters, worms, pinkies and up to 2kg of groundbait.