A Flying Visit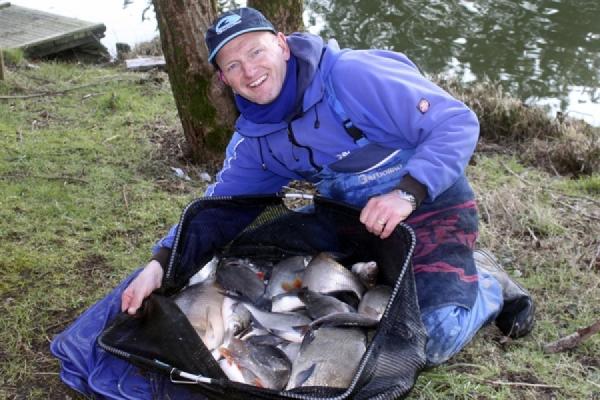 Darren Cox pays a quick visit to one of his all-time favourite angling destinations, White Acres Holiday Park in Cornwall.

I made a flying visit to Cornwall last week when Simon Fry and I were due to present the new range of Garbolino products to the fishing team. They have done lots of work over the winter in ready for the Spring festivals and the seriously busy summer time. All the islands have been cut back nicely so anyone going down this year will be able to drop their feeders as tight as they like now! That's sure to mean more fish for everyone as the fish cant back off into the vegetation any more as it's all gone.
Fishery manager Clint Elliott and his team were all really impressed with the new Garbolino range so you will be able to get all your product requirements on site when you arrive this season again. After the product presentation we managed to 'gate crash' the Wednesday open on Pollawyn – which fished its head off! Bearing in mind this was when the -6 degrees nights were upon us and only days before all the lakes had been frozen, we still had a great match.
In form (in the draw bag) and on fire (at his peg) fellow Garbolino bagger Simon Fry took advantage of a good draw (Peg 31) by winning the match with a stunning 78lb of carp to 10lb. Simon fished our new Pellet Cone Press and then switched to the Method halfway through the match to continue catching well on a Flou mini boilie.
I had a wonderful day skimmer fishing on Peg 13 and eventually weighed 42lb and won absolutely nothing with that! The most impressive skimmer net on the day was from Garbolino's Cornish bagging machine Harry Billing who had 62lb. Almost all skimmers apart from one carp on the pole and dead red maggot.
It's fantastic fishing all year round and so mild down there that the carp have a go most days. I can't wait to get back down there in spring now!


Darren Cox is an England international, the UK boss of Garbolino and writes for Match Fishing every month.