A Great Start To The Series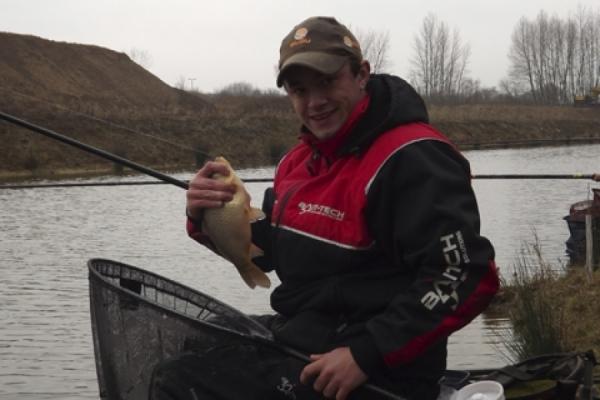 Tony Curd's first blog for Match Fishing kicks off with the Colemans Cottage Individual Winter League.
Last Sunday saw the second round of the first Colemans Cottage Winter League held at the venue.
While not being hugely attended this league takes place on a venue I would consider one of the very best in the country and the addition of the new Stepfield Lake, which will hold 65-70 pegs when fully open, only adds to the great sport on offer at the Essex venue. Maybe one day it'll figure in Fish'O'Mania and Match This qualifiers?

The first round was a good start for me - I drew an average area of the lake and while the fishing was tough, mainly due to several hard frosts on the trot, I managed to winkle out 33lb 8oz of small F1s for 3rd in the match and second in section. With four results out of five counting it wasn't a bad start and a day I managed to learn a lot about the venue to take onto the following rounds. 

The second round saw similar weather leading up to it with some frost - the lake had been frozen the week previous! I had a good idea of what to expect – catch 30lb for a section and 40lb plus for the match win. At the draw I pulled peg 26, a peg I would consider decent in the section, but as far as a winner goes there hasn't been enough matches on the lake for anyone to call a 'flyer' yet which makes a nice change!
As I began to set up I worked out on my last match at 3ft across was a good catching depth, so I would look for that in three areas at 16 metres. I always find it's important to have a lot of swims to keep rotating throughout the match and, as the fish seem to be at long pole distances at the moment. In addition I set up two lines at 14m where I had 6.5ft of water.
I also set a short line up at 6m where I would feed maggots throughout the day. My rig for fishing across was a Drennan Carp 1 4x12, which was made up on 0.11mm Guru N-Gauge to a 0.09mm hook length and a size 20 808 hook. Shotting was simple, strung no No11s an inch apart starting from the hook length connection. The rigs for fishing short and at 14m were the same depth and I used a 4x16 KC Carpa Chimp with a simple bulk and three No10 droppers. Elastic on all my rigs was Preston 9h Hollo; a very forgiving elastic that I rate highly for this sort of work.

Starting the match at 14 metres I expected bites straight away but nothing happened – time to panic? By keeping everything steady after 40 minutes I started to get a few bites. Not much had been caught around me so there was no call for concern just yet! A small crucian carp followed by an F1 was my lot at 14m and I moved to 16m where I picked up odd F1s between different lines on 4mm Bait Tech Xpand pellets while feeding 2mm pellets covered in a small amount of Special G Green groundbait.
Other anglers started to catch well doing a similar thing but luckily for me their pegs slowed up.
Working between my 16m lines I felt, with an hour to go, that it was slowing up so I brought in my third 16m swim off to my left where I had some room and caught eight more F1s before the end, which really helped my cause! As I weighed in the other end had fished well with three 40lb weights so I wouldn't win the match but felt I'd done well in the section. Pete Steward on my left put just over 20lb on the scales and I was delighted to register 29lb which was good enough to win the section. I feel sure this is a section I wouldn't have won if I was rigid in my approach sitting and waiting for bites in a dead area. Having somewhere to go once all your other lines have been exhausted is an absolute must when fishing for F1s - it has been a great start to the series and I currently lead overall, there is a long way to go yet though….bring it on.