Junior Champion!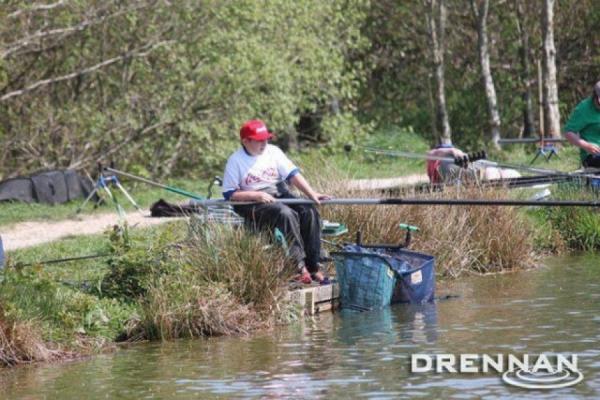 Ellis Driscoll on winning the Drennan Coca Cola Festival at White Acres.
On Day one I was on Trelawney and having had a practice on the lake the day before, I knew it would be hard! I had a bit of luck drawing Peg 23 (some call it "the F1 bay") and I had a great chance of winning my lake if not the section, but to win I'd have to work hard to beat the angler on Peg 20 in particular.
There are strict rules at White Acres regarding permitted baits and quantities. I used a mix of ABC Betaine green CP70 Method mix, micro pellets, 4mm pellets, 6mm pellets and casters. As a back-up plan I had some 6mm cut meat which I would fish at short range if necessary. I also had expander pellet hook baits and, of course, a kilo of worm.
I started my match by feeding half a pot of dampened 4mm pellets and a few hookers at 13m – this would be my main approach. I fed a short line with meat and one line down the side with chopped worm. I started on my short 6m line and had five quick fish but it soon died. Next, I had a look down the side with chopped worm but only caught very small fish, so I had a look on the long line with a 6mm pellet, while still feeding at four metres with a catapult.
After an hour I had counted 25 F1s and thought: "I am doing okay."
I could see the angler on Peg 20 catching quickly against the island and figured I'd need a lot more as he was getting a bigger stamp of fish. Now and again I had a look on my meat line and caught the odd fish, but not enough. I stuck on my long line and just pinged bait over the top, and after another 10 quick fish it was looking good for a section win!
The 'all out' sounded and I had a fish on at the whistle – "15 minutes to land it," said my dad. I landed it and had 40 odd fish for a weight of 42lb 8oz – enough to win my section and finish 2nd on the lake.
On Day Two I was on Jenny's Lake. I was lying second out of 19 and having won my section on Day One, I needed the other section winners to blow-out on Day Two! I had no idea what to expect on Jenny's – it seemed from previous results there were a handful of pegs you could do well on.
I drew Peg 15 – a good open-water peg and also drew in the same section as another section winner from the previous day – this meant I would have to beat him to win. There being a good stock of both tench and F1 carp I decided to go with the worm-and-caster approach, plus meat and corn 'down the side'. I used a kilo of worm, some casters, meat, corn and the ABC Betaine green CP70 Method mix.
At the start of the match I fed some chopped worm and caster at 13 metres and fished straight over it. I got the odd fish, and other anglers were struggling so I was doing okay. I fed again and had a chuck on the Method and got three F1s in three chucks. Ten minutes later I went back on the worm line and had several tench and decent skimmer bream – from that point I caught steadily and was confident about another section win!
The 'all out' sounded and the weight to beat was 28lb. I weighed-in 34lb 4oz; another section win! It turned out I was the only angler to win my section on each day, with an overall weight of 79lb and 10 points.
I was the 2013 Drennan Coca-Cola Junior White Acres Champion!

Result:
1st Ellis Driscoll, 10 pts, total weight 79lb 00oz
2nd Charlie Clarke, 9 pts, total weight 117lb 01oz
3rd Bradley Gibbons, 9 pts, total weight 62lb 02oz
Picture courtesy of Drennan International. Click here for more!