A Late Surge!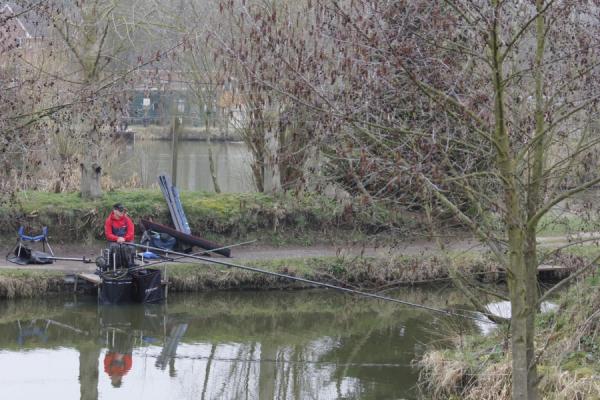 Joe Carass was staring down the barrel at the weekend but a blinding last hour saw him come good!

The matches are coming thick and fast at the moment thanks to the arctic weather that put paid to the planned Winter League schedule. However it does mean more fishing which is certainly not a bad thing!
Once again it was to be another round of the Winter League at Tunnel Barn. Regular readers of my blog will know that last week our Match Fishing Drawbags team took the lead in this extremely difficult league. So this week was all about keeping in front!
Jon Arthur was yet again in charge of the draw but this week his drawing arm wasn't quite so good. Well when I say not quite as good, he drew himself another flyer in the shape of Club 13; Paul Bick was on Extension 34, which although not being great lately is a decent draw. My New 22 was far from a disaster although it is a peg I have been on many times and I don't really like it. Steve Ringer's peg was where the wheels firmly came off! Top Pool Peg 1; used to be one of the very best pegs on the complex. However in recent years the fishery has removed many of he pegs features and it is a peg that hasn't won a match for two years. Worse still the lake had a lot of water flowing in off the land and Steve's peg was exactly where it cam in! Still if we needed one man on a peg like that, surely Steve could eke out a few fish and get some points from a potentially disastrous draw.
I got to my peg a long time before anyone else and as I set my box up there were F1s rolling everywhere. I have seen this before on this lake and it is not normally a good sign. I believe that it is when excess water gets in the lake along with something the fish don't like. I think that they are cleaning themselves off when rolling in this manner. Nevertheless there were certainly some fish in front of me. The peg offers and island at 14.5metres and then a lot of open water to the right where the water is extremely deep.
My plan revolved around making the most of the peg and several lines were plumbed up. Despite the nice looking island it rarely produces, not least because Peg 1 is situated there!
For company I had none other than river legend Wayne Swinscoe! I must admit I got quite a shock when he pulled up next to me but at least we would have a chuckle.
At the all-in I shipped straight across with a piece of bread to try and sneak an early carp. It wasn't to be though and I was soon down the track. This line was a bit better; an early F1 got me into the match before the silvers arrived. The lake was fishing very hard so I decided to fish for these for a while just to put some fish together. Before I knew it three hours had passed and with just three F1s in the net and a few silvers I knew I needed to make my move.
Wayne had seven F1s at this point but was slowing up. I decided on a quick look in the deep bowl and first fish was a huge F1 of about 5lb! Perfect. The line gave me little else but more small skimmers and another hour passed with little to show for my efforts.
One final move was required and this time it paid off. Bites were instant on this new line and 10 more F1s and a huge perch got me out of the mire. At the weigh in my 35-9-0 was enough to take third on the lake, just one fish behind Amer Jawad in second but 14lb behind lake winner Aidan Mansfield.
News was good from Jon Arthur with his 99lb section winning performance, which also got him second in the match. Paul was as consistent as ever and was second on Extension pool with 45lb behind the impressive Stu Palser who took the lake win – just for a change.
The wheels fell off somewhat at Steve's peg! His 15lb only beat four as the peg was just devoid of life! The water was a chocolate colour where water flowed in freely. It was no coincidence that the lake winner Steve Townsend was at the complete opposite end to Steve!
For us though it was a 56 point score, which saw us finish in third place but more importantly extend our lead at the top to 24 points. It is looking good for us with two rounds to go, but in this league anything is possible and it will be extremely close come the final round!
Follow Joe on Twitter @carassjoe
Or email your thoughts to [email protected]