Pole Fishing With The Stars Weekend!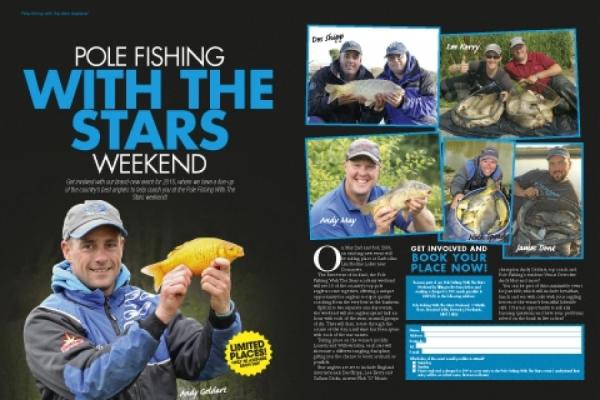 Get involved with our brand-new event for 2015.
We have a line-up of the country's best anglers to help coach you at the Pole Fishing With The Stars weekend!
On May 2nd and 3rd, 2015, an exciting new event will be taking place at Garbolino Lindholme Lakes near Doncaster.
The first event of its kind, the Pole Fishing With The Stars academy weekend will see 10 of the country's top pole anglers come together, offering a unique opportunity for anglers to enjoy quality coaching from the very best in the business.
Split into two separate one-day events, the weekend will see anglers spend half an hour with each of the stars, in small groups of six. They will then rotate through the course of the day, until time has been spent with each of the star names.
Taking place on the venue's prolific Laurels and Willows lakes, each star will showcase a different angling discipline, giving you the chance to learn as much as possible.
Star anglers are set to include England internationals Des Shipp, Lee Kerry and Callum Dicks, current Fish 'O' Mania champion Andy Geldart, top coach and Pole Fishing's resident Venue Detective Andy May and more!
You can be part of this unmissable event, for just £99, which will include breakfast, lunch and tea with cake at the venue's beautiful lakeside café with your angling heroes. It's your opportunity to ask any burning questions and have your problems solved on the bank in live action!
Limited Places! Get involved and book your place now!
Entry is £99 per angler.
Pick up the latest issue of Pole Fishing magazine to enter, or book here: http://www.polefishingmagazine.com/pole-fishing-with-the-stars