Taking The Next Step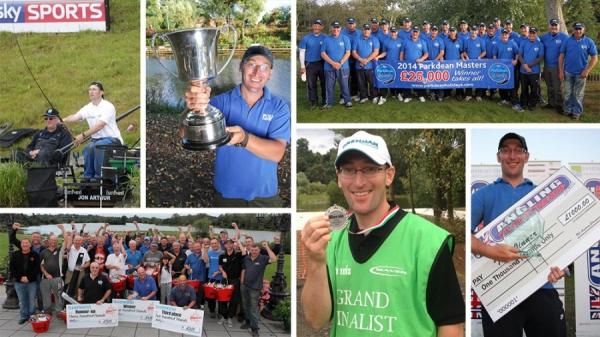 Jon Arthur is no stranger to big events, so we got him to pick seven of the best and explain what it takes to fish them.
I have had a few people messaging me recently about 'taking the next step' and getting into the big-match circuit. I think that's great as, for me, half the fun of match fishing is constantly learning about new methods and venues, trying to up your game and better yourself.
It's easy to get stuck in a rut fishing the same venues week in, week out. I can see the attraction sometimes, especially if you're a brown-envelope chaser, but it's not for me. Targeting the high-profile events is what I really look forward to each year and it sounds like I'm not alone.
These events are obviously not easy to win and I know how deflating it can be when you do no good but, equally, the rewards are there if you put the time in and have a bit of good fortune on your side. Treat each failed attempt as a stepping stone towards finally reaching your goal. I probably learn more from a bad match than a good one and you certainly cannot make any mistakes when the competition is top notch.
Money Matters
If you want to take the plunge and enter some high-profile matches, the first thing you have to ask yourself is "Can I afford it?" These events are not cheap and you must think hard and appreciate this before you dish out your hard-earned cash.
As an example, I have just come back from a big pairs event that's probably cost me the best part of £200 in pools, diesel, accommodation and bait. I was one of the lucky ones to win my section, which earned me the princely sum of £50 – which I had to share 50/50 with my pairs partner! If you need the money to justify the commitment then I'm not sure these events are for you.
I look at things differently. Match fishing is my life and my passion and I'm not motivated by the money. It's still nice to partake in something where you actually have the potential to win something back at the end of it, though, however small. I know not everyone can justify the expense of this game and perhaps don't realise the true cost of it all. Very few people break even after the end of a big match. If that matters to you I would seriously reconsider entering in the first place.
I know others, however, see it as a perfect way to learn and gain experience by rubbing shoulders with the best – and maybe even taking the odd star scalp in the process! Rubbing shoulders with the Alan Scotthornes and Steve Ringers of this world can sometimes be more rewarding than paying £150-plus for a day's coaching. It all depends on what you want to get out of it.
So, assuming you've weighed it all up, here's my pick of what you could potentially enter:
1. Fish 'O' Mania
www.anglingtrust.net
The easy part with Fish 'O' Mania is entering. All you have to do is be an Angling Trust member and fill in the website application form for any of the 16 qualifiers. The hard part is getting allocated a ticket. That is purely down to the luck of a random draw. There are always more people entering than tickets, so people will always be upset when they don't get one. Obviously, the more qualifiers you apply for the greater the chances of you getting one of those golden tickets.
The absolute hardest part after that is drawing a peg that stands any chance of winning! That is definitely not easy. There are only a handful of venues that really stand up to 130 or more anglers. It's a squeeze on most. Now there are bigger 180-peggers and a final 300-pegger at Lindholme Lakes the odds of winning are even lower.
However, once you've been in a Final you'll soon appreciate just how special this event is. I have made it three times now and know you need to have some good fortune on your side. A qualifier is not about framing, it's about winning. In a Fisho qualifier, though, you often have less than 10 per cent of pegs capable of doing that. By all means go and try to win your section, but ultimately the only thing that matters is the match win. It's not nice driving home after coming second in a qualifier… and I've done that a few times too!
A lot of factors in this event are out of your control. End pegs, empty pegs, people packing up, people not even going to their pegs in the morning. These factors can and do make a big difference in this event, perhaps more than any other. Many a qualifier has been won because of circumstances like this. It can really upset the form book and that's why literally anyone can win if their cards are right.
There are always a number of big names in the £30,000 final filmed live on Sky Sports each year, but I also think this event more than any can really favour the underdog. If you get there, my advice is to savour the day and don't be disheartened if you don't win. Only one person can do that. Hopefully, one day that will be me!
2. Maver Match This
www.mavermatchthis.co.uk
There are more MMT qualifiers than Fisho (24 in total, as opposed to 16 for Fisho) and entry is on a first-come, first-served basis, so anyone can get a ticket at the moment if they're quick enough. Most of the qualifiers are still not quite selling out, so that means the venues are pegged much better than Fishos and you therefore stand a better chance of winning off more pegs, plus there's a better chance of a decent day's fishing, even if you don't. I think this fact does favour the bigger names, however, which is certainly reflected in the Final.
At £50 a pop it's twice as expensive as Fisho, plus there are optional pools of £10 to £20 on top, which can make it a very expensive day. However, the payouts are normally very good – not to mention a brilliant £60,000-plus to the winner of the final at the end of it all. They also pay out more anglers in the final compared to Fisho. I finally qualified in 2014 and even though I did no good on the big day I have to say the entire experience was brilliant and this is currently the event I'm the most keen to do well in again.
3. The UK Champs
www.ukanglingchampionship.co.uk
Having won this event twice the UK Champs is naturally an event I hold dear to my heart. However, be warned, as it's a midweek event that's £240 to enter, plus pools on top, and involves a lot of travelling. You need to be 100 per cent focused to do well; something I must admit I haven't been over the last couple of seasons.
You also need to get off to a good start on Round One to stand any chance of doing well. Even the best anglers can draw badly and be out of the race immediately. Some will then drop their heads and that's when people starting dropping out and sadly the attendances fall… but that's probably a separate issue for another time!
The UK Champs really is a prestigious 80-angler event, though. Coming in the top 10 is most people's goal to begin with. When I first entered it was quite a loyal family of anglers all getting together, with just a few dropping out each year and a healthy waiting list to get on. That's all changed now, as the bottom half of the table get relegated and have to fish a big qualifier to get back on. So, if you want to fish this event there's a decent qualifying match at Barston to enter each year.
Being televised by Rob Hughes for Sky Sports adds an extra dimension to proceedings, but don't expect to see yourself on TV unless you've caught a few. Even then, don't expect them to spell your name right two episodes running (sorry, Rob!). Joking aside, the UK Champs attracts a real who's who of commercial match fishing and is an excellent, well-run event with a real buzz about it. Four good draws and it's yours. Sounds so easy when you put it like that…
4. White Acres Festivals
www.news-reel.com
Visit the White Acres website and you'll find a big list of festivals to cater for anglers of all abilities down in sunny Cornwall. Of these, the four biggest are the Bait-Tech, Dynamite Baits, Maver and Preston. The latter festival is the biggie, as finishing in the top 24 earns you a place in the Parkdean Masters winner-takes-all final with £25,000 up for grabs.
Sounds easy, perhaps, but these festivals attract the cream of the crop and there are 180 people each time battling it out!

Few can turn up to White Acres and expect to do well immediately. No matter how good you are, this place can kick you in the teeth at times. There is a steep learning curve and an apprenticeship that normally has to be served.
After several year of trying, I finally made the televised Parkdean Final last year, but I still feel that I am on that learning curve. You need to be versatile and draw pretty well. It's also easy to get confused with all the information flying around. My advice is to get together with some friends and get on one of these festivals, then just try to treat it like a holiday and enjoy yourself. Win or lose, you are guaranteed to come back a much better angler afterwards.
5. Drennan Knockout Cup
www.matchfishingmagazine.com, www.drennantackle.com
This is a great knockout event run by Match Fishing and spread across lakes, canals and rivers. It starts with over 100 anglers and gradually whittles down to four very worthy finalists. It certainly tests an angler's all-round ability to the max, but it's also an invitation-only affair. A who's who of angling gets invited and most of the places are earned by reputation and ability.
Usually, the top three or four from the Match Fishing & Pole Fishing Subscriber Classic will also win an invite, however, as does the Garbolino Club Angler Of the Year Champion.
There 'could' be another way to get on this amazing event in 2015, but you'll just have to keep an eye on the news pages of Match Fishing magazine to find out more…
6. Match Fishing & Pole Fishing Subscriber Classic
www.matchfishingmagazine.com, www.polefishingmagazine.com,
This is a really big one-day event that is a great experience, even if you don't win. There are always stacks of cash and tackle prizes dished out to everyone who enters and there's always a really fun atmosphere with the MF and PF teams.
The winner gets to feature in the magazines afterwards and earns his or her place in Round One of the Drennan Knockout Cup. A great reason in itself to subscribe to these magazines!
7. Evesham Angling Festival
www.eveshamfestival.com, www.hamptonferry.co.uk
This three-day event takes place on the Warwickshire Avon every August Bank Holiday and is, in my opinion, the best natural-water competition there is. The Saturday and Sunday matches are individual affairs with some star-name invitees and the rest of the field is made up of qualifiers.
The qualifying matches are normally sold out quite fast but they are well worth entering and there is always a friendly and welcoming crowd at the draw. With parking behind almost every peg, a late 12pm draw and loads of time to set up, plus great food and drink in the Hampton Ferry cafe afterwards, it's no wonder these qualifiers often sell out pretty fast.
The Festival itself is a proper show where thousands of people turn up to watch and the atmosphere is always fantastic, even if the fishing can sometimes be a struggle. Bloodworm is allowed in the finals but only allowed on two qualifying weekends, so you can take your pick as to when to enter. Don't forget, the later heats give you the best chance of making the festival as a number of anglers still fishing them will have already qualified by then.
The great thing about Evesham, though, is that the fishing is so diverse and you are never completely out of the race. One big fish can easily win an event and they can show up anywhere. That means you stand a chance of winning off almost any peg right up to the final seconds of the match. There are some really big names on these trophies – one bite from a big barbel, tench, carp or bream and it could easily be you!
Good luck!