Venue Detective: Hampton Springs Fishery
Venue Detective: Hampton Springs Fishery
Well, I was convinced that by now I would be all snarled up in deep water, fishing on the bottom, tapping in seven micro pellets and waiting ages for a bite!
That's not the case today as you join me at the beautiful Hampton Springs Fishery. I absolutely adore this fishery and just recently I've started fishing it lots more as it's only just over 40 minutes from my house.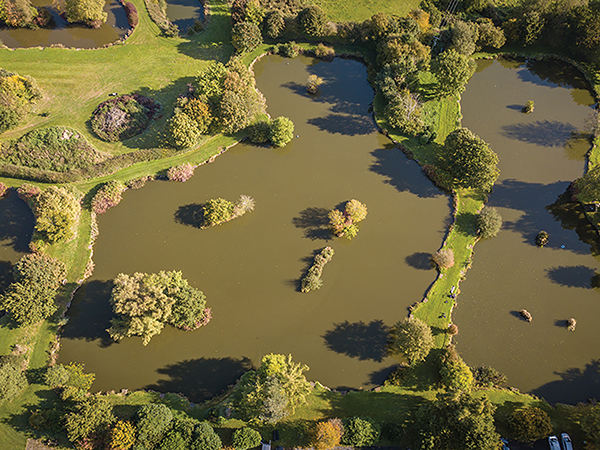 In total there are eight lakes to choose from and all of them offer different types of fishing, some with over 14 different species, some with massive perch and others with massive carp.
There is a dedicated lake for specimen carp fishing, and also more are due to open very soon.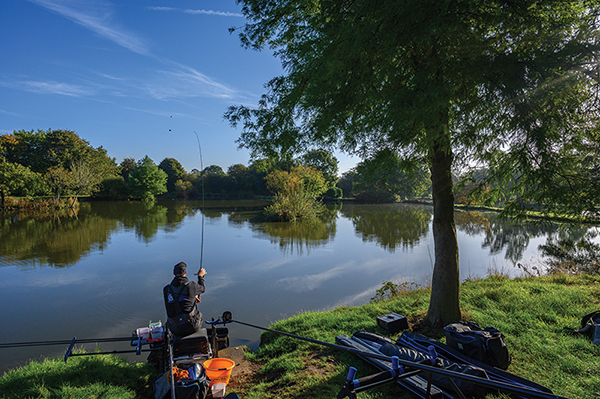 It's probably been a good 15 years since I last fished here until I came back with Jamie and Rich in July and the work the new owners have done into making the fishing fantastic all year through is unreal. We have filmed a few Winning Ways episodes here this year and the venue never disappoints.
As you drive into the fishery all the lakes are on your left-hand side, you must report into the bailiff's lodge where you will find a well-stocked tackle shop where you can purchase your pellets as it's all fishery own.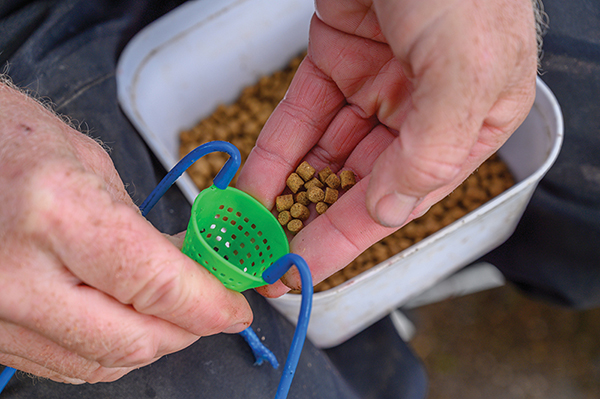 Rick the bailiff is always worth a chat to on arrival and he will certainly put you on the fish. Today he advised me to go on the Rock pool where the fish are really having a chomp and with the weather being very unseasonably warm and bright, I may have to dust the shallow rigs off that had been put away until next summer, wohooo!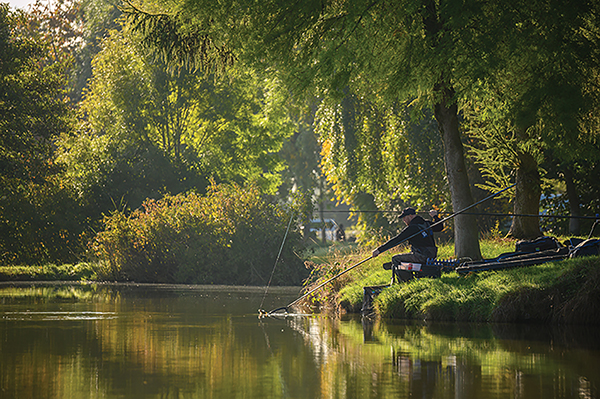 I decided to go on Peg 28, which is a very short walk from the van. The peg itself has two islands around 25 metres away left and right, so instantly with fish showing all over the lake I was thinking a bomb and pellet towards the right-hand island and then two other pole rigs for a 6m line fishing up and down with casters and maggots to catch everything swimming.
Main species in this lake are, everything, haha! The lake is full of F1s, carp, rooooooach, skimmers… I could keep going on.
Bait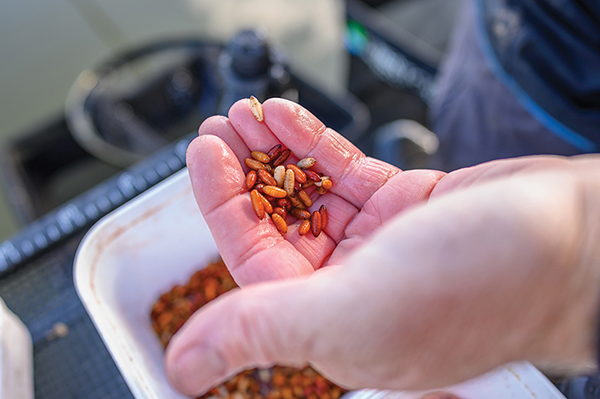 I had with me two pints of casters, a pint of red and white maggots and some 6mm pellets to ping towards the island, for the hook bait I had some 8mm Robin Red pellets for the bomb.
Rigs
A 10ft bomb rod was the first out of my holdall, set up with a 20g bomb, 6lb main line, a 4in twizzled boom with a 12in hooklength. Hook choice is a size 14 KKM with a band for the pellet on 0.18mm line.
With how warm the weather was I had to set up a shallow rig, not like the shallow rigs I would use in the summer but set to fish up to two feet deep. I used a 4x8 F1 shallow float and shotted the rig with three No10 Stotz spaced evenly through the rig.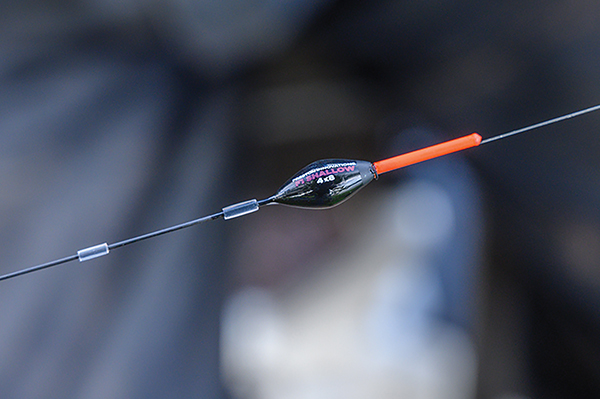 Main line is 0.16mm Accu Power and hooklength is 0.12mm with a size 18 KKM hook with a tiny band for banded caster. I'm using blue 7 Duraslip Hybrid elastic, which I absolutely love using at this time of year.
I've also done a rig to fish on the bottom using a 4x12 F1 maggot float. It's just over five feet deep at six metres and quite silty; as there are lots of fish showing I've opted for a tapered shotting pattern with three No10s spaced over 14 inches and then three No9s with a small gap in between them going up towards the float.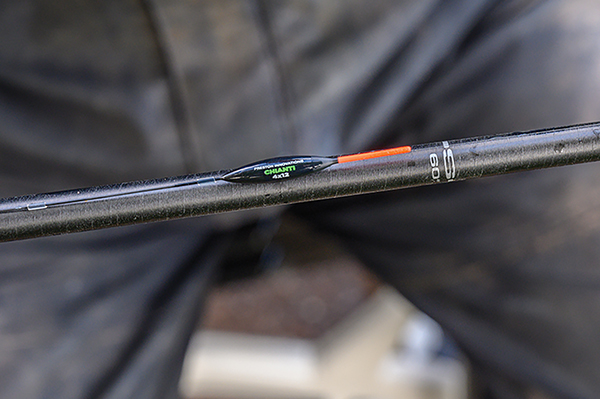 I'm using the same elastic and line as my shallow rig but a size 16 SFL-B hook. I've plumbed to the bottom of the body of the float because of the silt. Wohooooo, let's get fishing!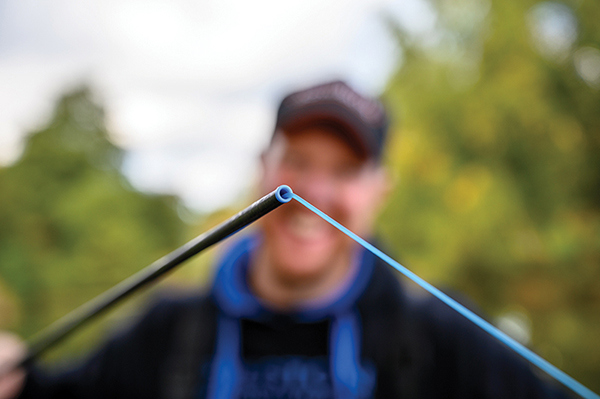 The Session
To start with I ping out around a dozen 6mm pellets towards the point of the island and loose feed two lots of around 30 casters on my short pole line. It's on with a Robin Red 8mm pellet and I cast the bomb around two feet short of the island.
I'm only leaving the casts around five minutes but feeding every two minutes. Already on my third feed I've got fish swirling for the pellets so I decide on having much more regular casts, only leaving the bomb in for 90 seconds to two minutes.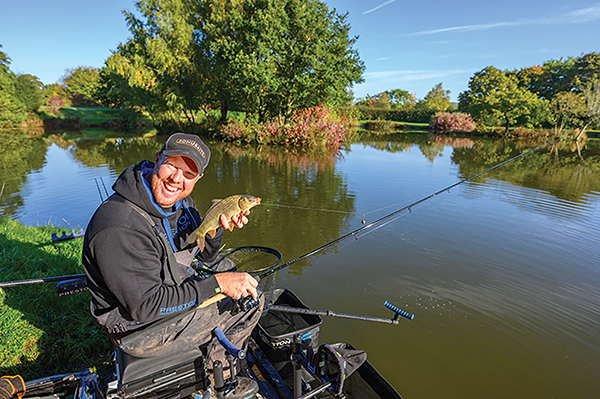 Third cast in and I'm snarled up in an immaculate looking little popular (common) carp, yessss! Every time I feed the pellets now, I have fish swirling and I'm starting to regret fishing the bomb and wish I'd have gone down the waggler route; however, I do have a large bushy tree above me so fishing with a longer rod would have been a bit tricky, and errrr, I've left my waggler rods at home!
It's obvious early on that the fish are feeding high up in the water given how warm the day is. Fifteen minutes in and I've now got fish swirling on my short pole line, daaa waaat babbi!
I stay on the bomb line for 30 minutes but only catch one more fish, even casting right tight to the island in shallow water. The fish are definitely not on the bottom.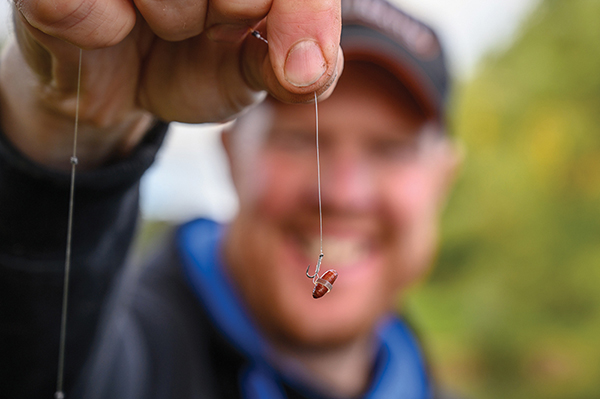 Enough of that for now then and I'm straight on with a caster on my shallow rig. I've set the rig around 18 inches deep to start with and instantly I'm into a lovely roach, well, rooooach around 10oz and next put in I catch a tiny roach, which is immediately followed by a nice, slimy poppadom (skimmer) around 1lb 8oz. Lovely.
There are signs of fish swirling and odd little bubbles coming up off the bottom every time I feed some bait.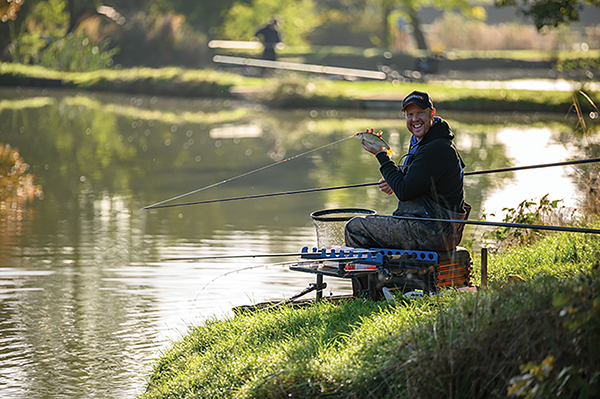 I'm not going nuts with the feed, double feeding two lots of 12 to 15 casters and waiting a maximum of 12 seconds before I lay the rig in again.
I'm getting bites most drops in but missing more than I'm catching so I come back and go a little shallower, probably around 15 inches deep now and the difference is instant, also the fish are F1s.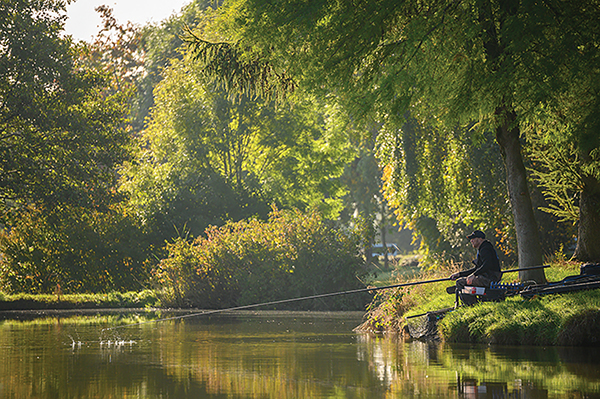 It's lovely fishing and it's like summertime all over again and for the next 20 minutes I put around a dozen F1s in the net up to 2lb. It's obvious when the F1s rock up as it goes a little quieter than when the roach are in the swim. I try a 4mm Robin Red pellet, but it doesn't work so switch back to a caster and catch a lovely ide around 2lb.
The weather then starts to turn a little and cloud over and the temperature drops quite a bit, there's not as much action up in the water and for a good 10 minutes I only manage one more fish shallow, even changing depths dropping to around two and a half feet.
There are still fish in the peg as bubbles are still showing so it's time to have a look on the bottom. I increase the amount of feed to roughly 30 casters and two lots to keep the fish on the bottom.
The beauty of the tapered rig (yes, Jamie has finally convinced me it's better than a bulk and droppers!) is that once you get the rig down to the danger zone in the bottom third, the bait is falling very naturally and even before my double red maggot hook bait reaches the bottom, I'm snarled up in a lovely F1.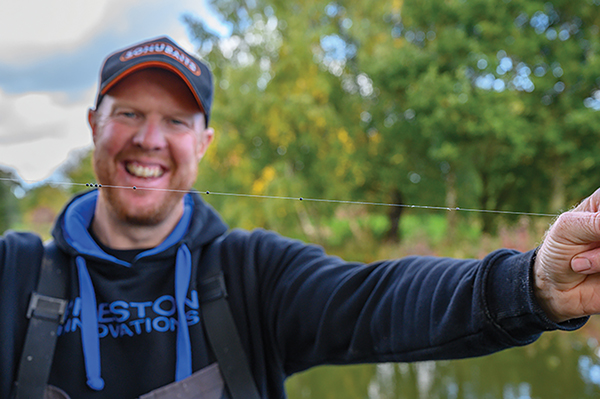 Next put in the rig reaches the bottom so I give the float a little lift and wallop, I'm into another stunning F1. I continue for the next 30 minutes getting a fish every put in, no liners or anything just simply lay the rig in, hold a tight line and if I didn't catch a fish on the settle nearly every one came after a little movement.
It's absolutely lifting with fish this complex and after just two hours we have more than enough for a catch shot, probably catching around 45lb to 50lb!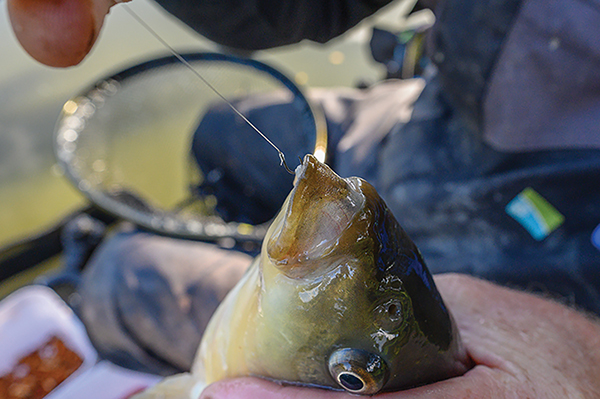 It was strange how the fish completely disappeared shallow and went to the bottom, but the temperature did drop significantly when the cloud cover came over, and the wind was quite cold.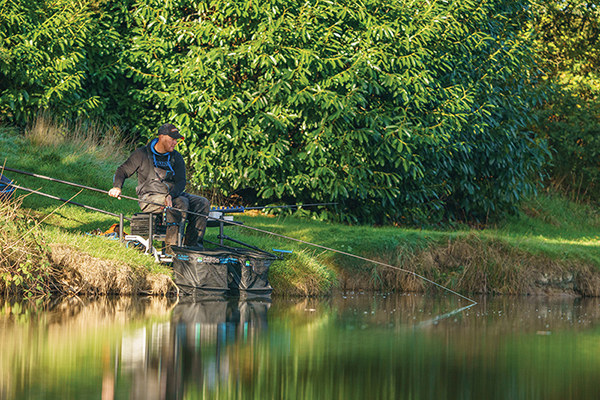 I'm sure the fish were still in bulking mode for the winter as this week in particular the fish have fed well everywhere. It's been an amazing couple of hours here today and it's been lovely fishing nice simple tactics that work on every single lake here.
Make sure to have a word with Rick when you arrive and he will put you on the fish and you will have a right day's fishing, goooo on Hampton Springs, what a venue!