Win With The Waggler With Des Shipp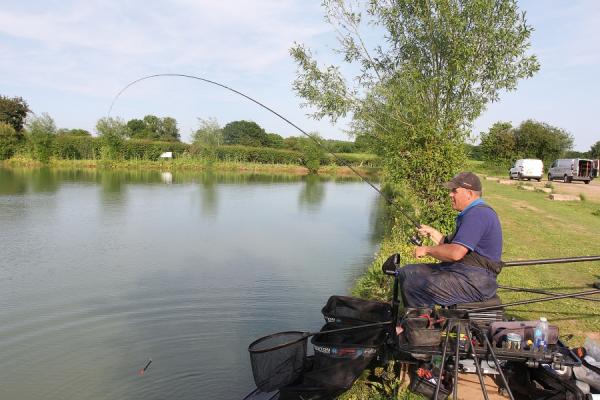 Des Shipp's Pellet Waggler Masterclass
Des Shipp explains when fishing the waggler can give you the edge over other methods…
Fishing the waggler is a tactic that requires almost unparalleled hard work and perseverance. However, done correctly, in the right situation it can prove to be devastating, just as I proved in a recent Maver Match This qualifier at Gold Valley Lakes, where I qualified for the £65,000 grand final!
Why The Waggler?
The first and probably most obvious reason for choosing to fish a waggler over the pole is its versatility and range. You can simply fish much further out using a waggler than you can the pole; it is therefore suited perfectly for large lakes or up to features where the pole cannot reach or using a feeder isn't suitable.
It also thrives on tightly pegged venues where fishing the waggler can create space for yourself by fishing an area of the lake nobody else is venturing into.
In modern commercial fishing, when somebody refers to the waggler, nine times out of 10 the pellet waggler is what is being referred to. However, I would be perfectly happy to reach for an insert or straight waggler should the conditions suit.
To help, here is a quick run through of what each variety is useful for: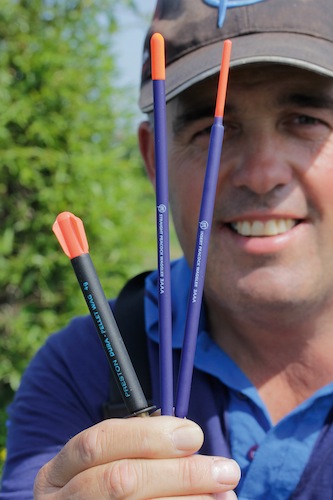 Pellet Waggler
My number-one choice for carp in the upper layers and arguably the busiest method out there, but hard work definitely pays dividends!
A nice dumpy pattern helps with hooking fish; the buoyancy of the float can aid with self-hooking – don't go too big, though, you are looking for a plop that imitates that of a pellet landing in the water when casting!
Insert Waggler
A sensitive pattern of waggler, perfect when a degree of finesse is needed, this is my go-to float of choice when fishing for roach, skimmers and even F1s on commercial fisheries using baits such as maggots, casters or worms.
The tip is thinner than the rest of the float and this aids sensitivity and bite indication.
Straight Waggler
A more buoyant alternative to the insert waggler, this has a multitude of uses.
The straight waggler comes into its own when there is a tow on the lake; its buoyancy means you are able to lay line on the bottom of the lake without the float being dragged under by the tow.
It also makes a brilliant float for fishing shallow for carp using baits such as meat or pellets; its structure means it has a dibber effect.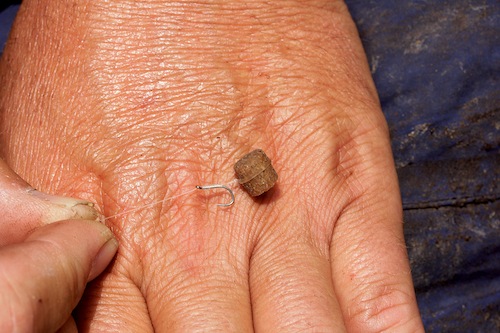 A Simple Hook bait!
Got It In The Locker?
Having the ability to fish with any type of waggler, and being completely comfortable in getting it out of the bag whenever I feel it's suitable, puts me on the front foot at a lot of venues.
To use the Gold Valley Lakes Maver Match This qualifier as an example, I opted for a pellet-waggler approach to the match. On the day I drew Peg 50 on Gold Lake, which gave me plenty of room to go at and draw fish from. I knew that I stood a good chance of the match win from there!
It was a particularly hot day with plenty of fish cruising around the lake. I therefore expected to catch in the upper layers of the lake, an area where the pellet waggler is particularly prolific.
Gold Lake is large in size and is occupied by some big, wary carp. These tackle dodgers have seen it all before and are often the wisest occupants of a lake, so will back off from the hustle and bustle of anglers on the banks towards the middle of the lake… prime waggler territory. Due to the size of the fish often caught on this method, between 20 and 25 fish was almost certainly going to be good enough to do the business on the day.
I found having the rig set at three feet deep worked best, although ordinarily I would fish anywhere between 12 inches and two feet. The lakes at Gold Valley are quite deep so I felt that this extra depth meant I had given myself more of an area to target while still focusing on the upper layers of the swim.
My 23 fish on the day weighed in at 172lb which was just over 20lb clear of the runner-up; averaging just over four fish an hour but each of those weighing on average 7½lb it is clear to see how a weight can be built up quickly.
The key is to not stop working. Feed, cast (past feed area), feed, reel into feed area, feed, reel in and repeat. You should never have your rod or catapult out of your hand!
The Setup
This could not get any simpler!
Float size depends on how far I am likely to be casting, and on the day a 4g Preston Innovations Dura Pellet Wag was just about perfect. It features a small, interchangeable disk that stops the waggler from diving on landing, and being a small, dumpy float that is extremely buoyant helps with the hooking of fish as they can often hook themselves against the resistance of the float.
How the waggler enters the water will be the difference between getting a bite or not in the majority of cases. The float should enter the water with a nice 'plop' (similar to the noise of an 8mm pellet landing in the swim) and sit upright instantly. Not crash into the water, dive two feet down and slowly rise back to the surface! Like I said, this can be the difference between getting a bite and not and you would be surprised how far a little bit of practice goes.
The float is then attached using the Preston Innovations Float Stop Kit, which comes supplied ready to slide straight onto your reel line and each setup comprises four float stops and a link swivel.
One float stop sits above the float and the remaining three sit below the float and act as a boom to keep the rig from wrapping around itself, reducing the risk of getting tangled or running into any problems throughout the match. This is vitally important when casting and reeling in on a near constant basis.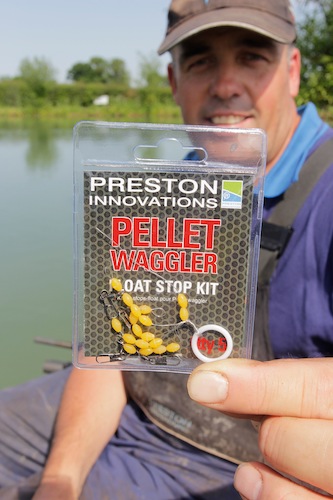 You don't need locking shot with these!
My rod of choice depends on how I want it to perform. I have two main options, either an 11ft 6in Power Float, which has an all-through action that I like to use when bigger carp are on the cards, or a 12ft Super Float rod that I see as more of an all-rounder and its action is very 'tippy'.
Both of these rods allow me to fish with relatively low-diameter lines as the action of the rods cushion any darts the fish may make. A 4 or 5lb Power Max reel line is as heavy as I would fish even when targeting big fish in this manner. You would be surprised how much stick it takes to have this snap.
To finish off the setup either a PR 36 or PR 38 hook tied to 0.15/0.17mm diameter Reflo Power will handle anything I am likely to come up against. A band in a hair and an 8mm pellet is my number-one bait of choice.
Work Hard, Reap The Rewards
Fishing the pellet waggler is all about hard work and getting into a rhythm. It is a method that needs your full attention in order to get it right on the day. Although you are only feeding on average three pellets at any one time you may do this three times every minute during the match and in between this you will either be casting, reeling in or playing a fish!
Similar to fishing shallow on the pole, finding the depth at which the fish want to feed will help with catch rate. A good starting point for the pellet waggler would be two feet. You then also need to work out whether the fish want to feed inside the feed area or off the back of the feed. It is therefore important to cast two metres or so past your feed area, feed, then reel into the feed; this will give you two opportunities to get a bite.
The key is to keep busy. If you are sat there impersonating a garden gnome you are doing something wrong. If nothing is happening then you need to make it happen. What you have got to remember is that when this method works, the size of the fish you are catching is generally big.
This is where match management comes into play; if the fish that you are catching are averaging 5lb a piece you only need four fish an hour to finish a standard five-hour match with 100lb. Breaking your session up in this way will help you to work out whether something needs to change or you are on the right track. However, it is those who keep working that will consistently produce weights capable of winning matches…
Venue File -
Woodland View Fishery
Location: Hay Lane, Droitwich, WR9 0AU.
Day ticket: £8
Contact: 01905 620872
Website: www.woodlandviewfishery.co.uk
Angler Profile -
Des Shipp
Age: 43
Lives: Bristol
Sponsors: Preston Innovations, Sonubaits