Abu 507 Mkii Reel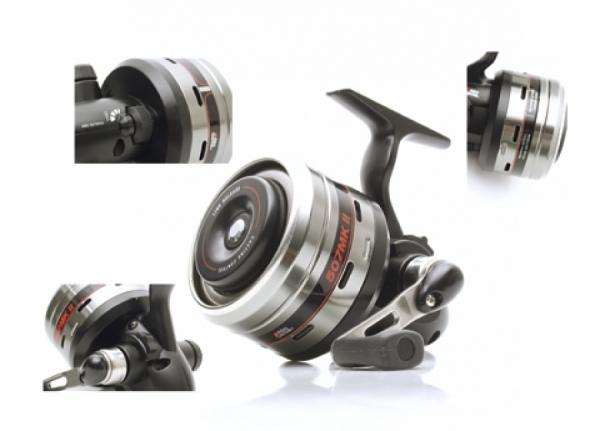 Match Fishing's chief sub editor and river aficionado, David Haynes, takes a look at an updated classic reel – the ABU 507 MkII.
Quick history lesson: Back in the days before commercials, when there was 'just' river fishing, the Abu 507 closed-face reel was the weapon of choice for the serious flowing-water matchman.
Bigger than the equally popular 506 model, once a few 'insider knowledge' adjustments had been made its push-button line release and instant line pick-up were deemed perfect for flicking a stick or waggler out and running them down the flow to haul out big bags of chub, roach and dace.
So good was it that after production ceased they changed hands on the second-hand market for many times their original cost, and top river angler Dave Harrell is known to have owned at least 11 of them at one time.
Looking back through rose-tinted glasses always seems to put a happy skew on things, however, and if we're honest the fishing was never as good as we remember, or the tools we used as efficient.
As soon as fixed-spool reels became smoother and easier to use on rivers, with manual bail-arm closure, the old 507's instant engagement of the line was negated and its somewhat grinding winding power lost out to the new multi-bearing models.
Then when commercial-fishery carp replaced river chub and roach as the quarry of populist choice many of these reels were consigned to the 'tackle museum' at the back of the shed, being sought only by collectors or die-hard river nuts.
Fast-forward 20 years or more and river fishing is back in fashion, and growing, with big matches and big money now available. To cater for this, having brought out the 506 MkII back in 2012, Abu Garcia has now taken the next logical step and released the revamped 507 MkII.
Where the 506 is small, light and best suited to close-in work, the 507 is a bit of a beast. Bigger, heavier and altogether more macho, it certainly feels like it has the guts to cope with a wider range of float fishing uses beyond pole range, and could replace a few fixed-spool reels on those 13, 14 and 15ft match rods.
Improvements on the original include a polymeric body and aluminium front cover, and there are now five bearings in the engine room for smoother, stronger winding.
It also has an anti-reverse and an efficient drag system, so playing fish can now be done using the old-fashioned way of back winding or the more 'now' technique of using the clutch – the choice is yours.
The reel comes in a smart padded case, complete with three shallow spools and a deep one. For optimum efficiency the shallow spools only need loading with around 50 metres of low-diameter line, so the deep version is a bit of a mystery.
Oh, and the handle is ambidextrous, so even lefties can now enjoy fishing with the 507.
If you used closed-face reels back in the day you'll love the 507 MkII, and if you've never had the pleasure, try it – you might like it.
RRP £79.99
Don't forget - subscribers to the magazine get 5% OFF THIS PRODUCT at Angling Direct. Subscribe here

Terms and Conditions apply, see www.dhpsubs.co.uk for details.