Up Close: Daiwa Airity X45 Rods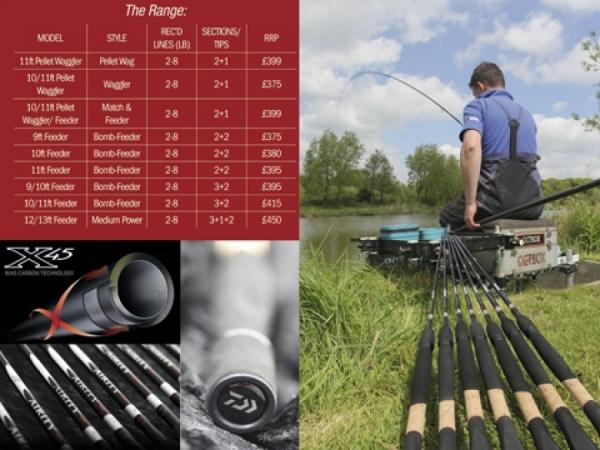 ADVANCED APPEAL
Match Fishing editor Tom Scholey takes a look at a very special range of rods, Daiwa's Airity X45s.
I must admit to being massively sceptical when I was asked to consider the possibility that a rod might actually be 'better' than Daiwa's Tournament range.
I love these rods and have been steadily building a collection when my budget has allowed. Indeed, I have written on these pages before about how I consider the 10ft Tournament to be the nicest rod of its kind that I have ever used. So could anything really be better?
Indeed, I have written on these pages before about how I consider the 10ft Tournament to be the nicest rod of its kind that I have ever used. So could anything really be better?
Enter the Airity X45s, boasting improved technology, which I will come onto later. The cheapest in the range has an RRP of £375, with the most expensive – the 12/13ft feeder – selling for £450. So they are not cheap. I assembled all of the rods in the range and gave them what I call the 'office test' – a couple of shakes, an examination of the blank, rings and reel handle and, with the help of my glamorous ginger assistant, a bend to get a feel for the action.
The thing I have noticed about UK-made Daiwa rods is that they generally feel a lot crisper in a shop, showroom or office than they do when you actually fish with them – and these are no different. All were lovely, true, through-actioned rods with no flat spots.
And so to the bankside and we chose the lovely Glebe Fishery near Leicester to give them a workout. Obviously it would be impractical to fish with all the rods in a single session, so we hand-picked the 11ft feeder, 10ft/11ft waggler/feeder (a very versatile tool) and the 12ft feeder.
All I can say after fishing with all three tools is wow! The thing that sets these rods apart from the competition is their action. The Airity X45 series combines casting power with a very fluent playing action at the netting stage, better than any other feeder rods I have ever fished with. Plus, I hasten to add, the improvement in performance and quality is such that I think the high price tag is not only justified but, frankly, if you can afford these rods you would be foolish not to take a look at them.
What is remarkable about the dual-purpose rods from a design point of view is just how seamlessly the spigots blend into the blanks. When playing fish, even the four-piece rods act as one true curve because, I am told, V Joint technology allows the spigots themselves to bend.
My cynicism was gone. The Airity rods certainly do seem to have the edge on their slightly cheaper Tournament brothers.
But what exactly is X45 Technology? The concept is explained brilliantly by video on the Daiwa website. In short, Airity has taken some of the trusted blank profiles of the Tournament Pros and advanced it with the innovative application of X45 technology.
During construction, the high-quality carbon cloth has been laid at different directions. Three sheets – one with the grain at 0 degrees, one at 45, and the other at 90. The result is a much truer casting action, with less wobble, without any negative effects on the rods' casting or playing ability.
After a few fish on each of the feeder rods, I was keen to see how the 10/11ft pellet waggler/feeder made the transition from float tool to feeder rod. This is a particularly tough challenge because we are not at a price point where the feeder rod transforming into an 'okay' float rod is good enough.
When you pay £399 for a rod you want the best of every category – and all credit to Daiwa, it has created a tool that offers this.
Like every great float rod, it feels like an extension of your arm, light, stiff and true. The X45 technology means that there is little sideways flex on the cast and the playing action couldn't be any better.
I really did push the rods during this test. I pulled far harder and used hooklengths far heavier than I would ever dream of in a match, and the rods were more than man enough for the job. I would confidently say that they could be used for any kind of UK feeder fishing.
So there you have it, new technology that makes a difference, and a range of rods (the Tournament Pros) that I considered among the best that money could buy superseded. If you haven't seen the X45s yet, and have a budget that allows you to fish with them, then you simply have to check them out.
Tom was particulalry impressed with the seamless transition between float rod and feeder rod.
RRP of £375 - £450