Up Close: Blaze Wear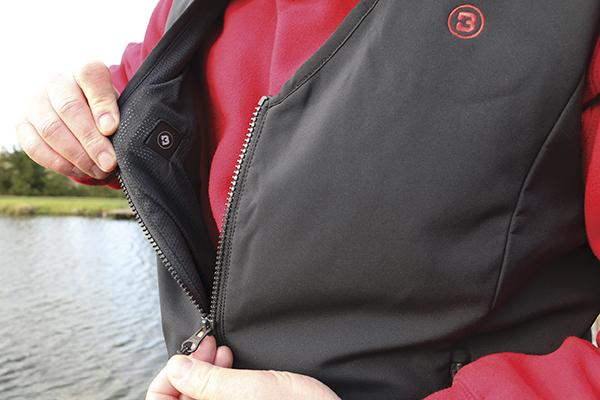 We must all be getting soft, because over the past few years, more and more anglers seem to be using electrically heated clothing! One brand that was one of the first to be tried out by anglers was Blaze Wear. Its clothing is not specifically designed for fishing though, more general outdoor use and for motorcylists. The products vary from full jackets to thermal base layers to head bands and even socks!

Eager to find out what all the fuss was about, I contacted Blaze Wear to see what they would recommend for anglers and two days later, a pair of heated boot socks and a gilet arrived! Both garments work in the same way. They have a controller button attached and a pocket to hide a power bank. Simply charge the power bank at home, plug into the garment and zip up the pocket.

To turn on, you press a button on the power bank and the controller button at the same time. The controller button will then illuminate red to show it is on full heat. To change the temperature, simply press the button to cycle through the three colour-coded heat settings. To turn off, press and hold the controller button until the light goes off.

When I first tried the gilet on, I thought they had made a mistake! It was a reasonable fit, with large arm holes and no collar, so it can easily be fitted underneath several layers of clothing.
I however, really feel the cold! I'm slowly adding weight due to a diet of cooked breakfasts and pies, but I'm still lacking enough of nature's own insulation to stop me from shivering without a vast amount of clothing on. This means that I wanted to wear a vest, a T-shirt, a thin polo necked jumper, a thin fleece and a hoody under the gilet BEFORE putting on my fleece jacket and waterproofs!

With all those layers of insulation under the gilet, would I even feel the heat?
I needn't have worried! After charging the battery and mocking up a fishing session in my lounge, I couldn't just feel the heat – I was almost being burnt through five layers of clothing! Two panels on the front plus two more covering my upper and lower back ensured I was being thoroughly cooked! When I say panels, these are not hard blocks – they are barely noticeable and almost feel like a folded sheet of paper has been stitched into the garment. The control button is nicely hidden away just inside the collar area and can be reached even with the gilet fully zipped up.

The gilet is also exceptionally well made. Several people have said to me that you can get far cheaper heated clothing, but the construction on the Blaze Wear gear is fantastic.
Look at any high-end outdoor clothing and it is a lot of money. Any soft-shell gilet that is both breathable and waterproof is expensive before you even think of adding heat technology.
Even without the battery attached it feels warm to wear. In fact, such is its quality, you can buy a non-heated version of it for £149.99!

Two outside zipped pockets are also a nice addition along with an internal mobile phone pocket in the rib area with a hole for headphone cables. The power bank that the gilet runs off sits in a pocket lower down and can also be used to charge your phone if needed.
The boot socks are not socks as such, but are more like bootliners made out of fleece-type fabric. The heating element this time runs along the whole of the sole area. They are large enough to fit over several pairs of socks and fit nicely into a pair of wellie type boots. The top part contains the control button and the pouch for the battery and is designed to be folded over the top of the boots. I can't see why with the spacious nature of waders, that these can't be used with them too… just switch them on before putting the waders on, as obviously you won't be able to get at the control button again!
The Test
With a lack of super-cold weather, I had to make do with trying the gear out on a relatively warm 4ºC day! You obviously don't want heated clothing switched on while setting up, as this is a key time to get too warm. Instead, I switched on both the socks and the gilet to full power just before I started fishing, which is when you move around less and start to feel the cold.
To really test the socks out, I was wearing just a cheap pair of neoprene wellies and within minutes my feet were cooking.

The gilet was also just as impressive and despite wearing the kind of level of clothing that would see me able to fish but feeling uncomfortably cold, I felt like I was being bathed in heat like on a summer's day! This was all a bit too much however, and after around three and a half hours all the batteries had gone flat, which is just as well as I was feeling a little burnt!
The next time I tried the gear out was on a similarly chilly day, but this time I set both socks and gilet to a medium heat. With two pairs of socks underneath the liners and my normal five layers under the gilet, I felt warm rather than cooked and all the power banks lasted over six hours.

Conclusion
This might be an expensive way of keeping warm, but if you're like me and really struggle to function throughout the winter months, they are really worthwhile investments.
Combine the heated bootliners with a good pair or two of merino wool socks and high-quality thermal boots, and I cannot see how anyone, even with the poorest of circulation, will get cold feet!

For me however, the gilet is the star product. When the weather is at its coldest, I have to wear so many layers that I feel cumbersome and find it difficult to ship out, land fish or cast. When I get home, I feel tired and my shoulders ache from reaching around with so many layers on. With the gilet, I can now get away without several of those layers and have a much more pleasant day's fishing, and with the extra freedom of movement I'm sure I will catch more!

I can also see me using the gilet in spring and autumn. Quite often at those times of year you get days where it rains all day and the wind is freezing cold. At the Feeder Masters final last year, I overheated and was sweating while setting up as the air temperature was high and I was wearing plenty of layers, yet by mid-match I was absolutely frozen due to the wind and rain! If I'd had that gilet on then, that wouldn't have happened as I could have worn fewer layers to start with then switched the gilet on!

Blaze Wear also does heated baselayer trousers and a top that I would also expect to be superb. What I like about the gilet rather than the baselayer however, is that being on top of several layers of clothing, it won't need to be washed as often, meaning you won't have to plan fishing trips around your laundry routine!

How you use any of Blaze Wear's products is up to you. You could just switch them on later in the day when needed, but I hate to mess around with anything during a match so I would just switch them on to medium heat just before the start, safe in the knowledge that they will last all match.
Verdict
An expensive luxury to people who don't feel the cold. To those who really suffer in winter weather, heated garments might just change your enjoyment of winter fishing forever!
RRP:
Men's or women's Active Gilet/Vest including 5v powerbank: £194.98
Heated Boot Socks including two 5v powerbanks: £89.99
Website: www.blazewear.com/