Up Close: Frenzee: FXT HGV Mk2 Trolley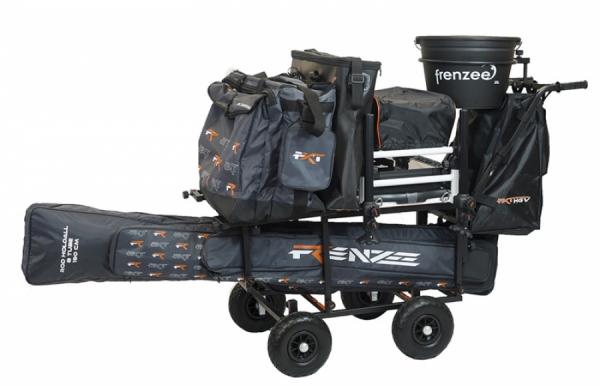 As anglers we are taking more and more tackle to our pegs, and having a trolley or barrow that can transport our kit is an absolute must. And that is where the Frenzee HGV MK2 comes in!
This a trolley built to easily transport the vast amounts of kit that anglers now carry. It features a totally unique two-tiered system that enables both the rods and the rest of your kit to be taken to your peg in one go.
The HGV MK2 frame has a lower area where your rods sit. This is a spacious area too and will easily fit an eight-tube holdall along with a couple of ready rod cases. This gives the HGV a low centre of gravity, which ensures your precious rods and poles are perfectly safe.

Once the rods are loaded in, the rest of your kit can be loaded on to the upper area of the HGV. A seatbox, carryall, net bag, cool bag and a bucket can all be stowed on the upper area of the HGV MK2, along with any other accessories that can be carried in the bag area.
This bag sits between the handles of the HGV MK2 and has a zip-up compartment that doubles up as a storage area for the wheels when the trolley is packed away into the car.
The trolley will cope with a huge amount of tackle, an incredible amount actually, but amazingly the trolley has superb balance and doesn't ever tip over.
The MK2 version benefits from having four puncture-proof tyres that feature two ball bearings, making the trolley incredibly easy to push and move, even over rough ground.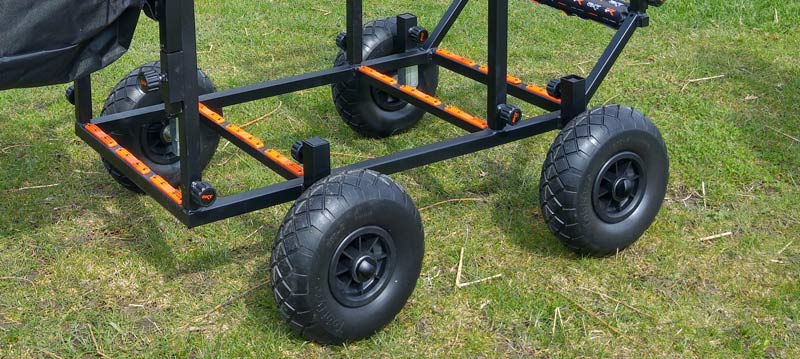 Frenzee has produced a superb bit of kit here that is perfect for the modern angler's needs. It is brilliantly designed and really does what it is designed to do very well. If you are looking for a new trolley then the HGV MK2 has to be in your thoughts, a great item of tackle that really is well thought out and manufactured.
RRP: £189.99
Verdict: A brilliantly designed trolley system that makes carrying all of your kit a doddle.