Up Close: Guru N-Gauge Rods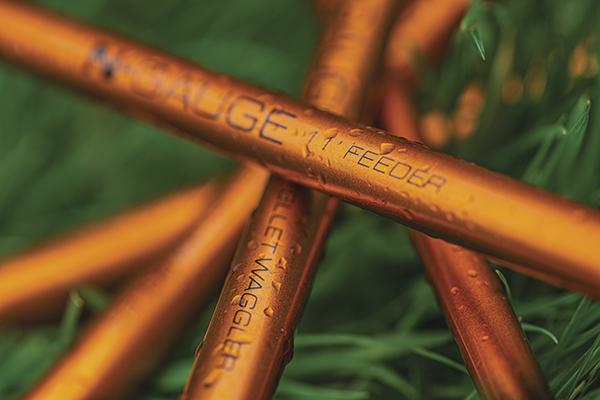 It's not so long ago that Guru was the new kid on the match fishing block, the lippy offspring of carp gear stalwart Korda, and just a few terminal tackle products in the range. Now? How things have changed!

Walk into most tackle shops and there will be a display of Guru items on offer, and what's more they all work perfectly. Thoughtfully designed, well made and pretty much just what you were looking for. Guru is now one of the big players in the match market.

Following on from the earlier high-end Aventus range of rods, Guru has released what many see as an essential part of any brand's portfolio – an affordable range of top-quality commercial rods. And, they've done it properly again, with the N-Gauge range.

Designed and developed by Guru's team of world-class match fishing consultants – including Adam Rooney, Pemb Wrighting, Steve Ringer, Andy Bennett and Matt Godfrey – as high-performance commercial based rods, the great value range is designed to cover all commercial fishing needs, offering six rods that can be used all year round. From short casts to islands on narrow lakes for F1s, to mid-range bomb, Method or Hybrid work for carp, and even longer-range fishing on bigger venues in the winter, N-Gauge has it covered at an affordable price for high quality weapons!
Specifications
High-quality components have been used throughout the range to create rods with a balance of playing action, power, accuracy and comfort. The handles are part cork and part Duplon, offering grip, durability and comfort, while looking the part with the finishing Guru personal touches.

All the N-Gauge Feeder rods feature super-lightweight high-quality guides that match the rods' thin blanks perfectly. Every guide has been strategically positioned to produce the optimum casting and fish playing performance, while minimising any tangles or casting frap-ups. On the two Pellet Waggler rods, Guru has used lighter weight single-leg reversed guides, offering balance and lightness as they are often in the hand when busy fishing the pellet wag.

The Range, And Properties Of Each Rod
9ft Feeder
Two-piece, 40g casting weight; 0.75oz, 1oz, 1.5oz carbon tips
Perfect for short-range work, or short accurate casts to islands! The soft action prevents hook-pulls at close range, while the rod still has ample backbone to land big carp!
RRP: £119.99
10ft Feeder
Two-piece, 50g casting weight; 1oz, 1.5oz and 2oz carbon tips
One of the most popular length rods on commercials, ideal for all kinds of legering from bomb, Method, Hybrid and Pellet Feeder work. A balance of softness in terms of fish playing action, with power for accurate casting and controlling big fish. From skimmers and F1s in winter, to angry summer commercial lumps - this rod can do it all.
RRP: £129.99
11ft Feeder
Two-piece, 60g casting weight; 1oz, 1.5oz and 2oz carbon tips
Very similar to the 10ft Feeder, with a little extra power for fishing that extra distance. The 11ft maintains a through playing action to absorb every head shudder and lung of fish, no matter what the size, and can be fished at a surprising distance with a balanced setup!
RRP: £139.99
12ft Power Feeder
Two-piece, 80g casting weight; 1.5oz, 2oz and 3oz carbon tips
Stepped up further, the 12ft Power Feeder does exactly what it says on the tin! While the top end of the rod has a cushioning action that prevents hook-pulls when fishing lighter for smaller fish, the bottom end of the rod kicks in to allow you to cast a long way and control the biggest of commercial creatures. An all-round power tool!
RRP: £149.99
10ft Pellet Waggler
Two-piece, 15g casting weight
A lightweight and balanced rod, with ample backbone for punching out pellet wagglers and playing commercial fish. The short length makes it easy to handle and manoeuvre, ideal when mugging fish in the summer or casting tight to features at close range. The 10ft Pellet Waggler maintains an absorbing through action, taming all sizes of fish with ease.
RRP: £99.99
11ft Pellet Waggler
Two-piece, 15g casting weight
With all the features and assets of the 10ft Pellet Waggler rod, but with extra length to allow anglers to fish greater distances. Fast and crisp recovery to hit bites and cast accurately, with a casting weight that can punch out even the heaviest of wagglers without any issue.
RRP: £104.99