Up Close Middy Reactacore XI20-3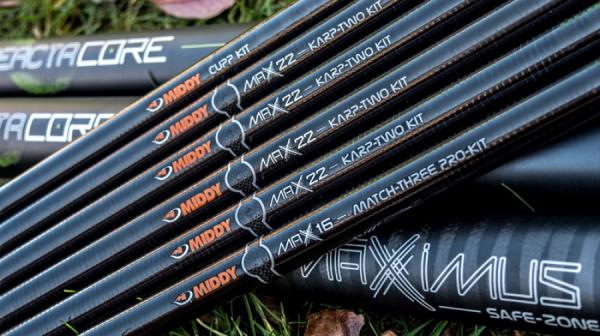 Some three months after their launch, the Middy Reactacore poles have already been a tremendous hit for the Derbyshire-based family company, which has been understandably proud and excited to get the poles to us ready for the review process.
I have fished with the flagship XZ65-3 several times and know just how good that is. It's among the best poles available and is considerably 'cheaper' than other poles of the same technical and performance standing.

However, I was keen to speak to Middy and find out which pole had been the most popular from the eight-strong range. I have always been hugely impressed by Middy's less expensive models – the Extreme M3, Muscle Tech, XM10 and XT15 models are incredible for their price – so I was not surprised at all to learn that the mid-priced XI20-3 was the biggest seller thus far.
This is a new price point for Middy (shop around and you should find one for between £699.99 and £799.99 depending on length) and slots in perfectly between the XT15-3 and XP35-3.
The two base packages available are 13.5 and 14.5 metres. It's worth saying that this is a proper 14.5m pole and not a 13m model with a cheaper extension added to make the pole look more appealing. This has been designed to perform well, even at the full length.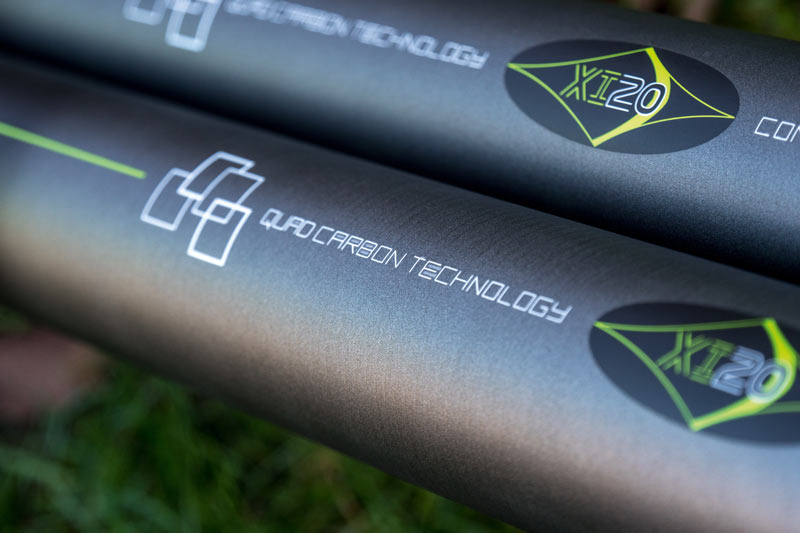 And the performance really is excellent. At 13 metres the pole is incredibly stiff and very well balanced considering its strength and elastic rating. At 14.5 metres it loses it a little bit but is still stiff enough to hit even shy F1 bites when targeting the far banks of commercial snake lakes. At this price point it really is excellent and the performance would surprise anyone who owns a more expensive model, that's for sure.
Features that make the XZ65-3 so great are here too. Maximus Wrap is undoubtedly a biggie. This strengthening area of both the male and female joints looks fantastic, but it's not all about looks and this wrap boosts the strength and durability of the pole dramatically. A key point to note is how hard wearing this wrap makes the sections and the joints of your pole will still be good after a long time of serious use.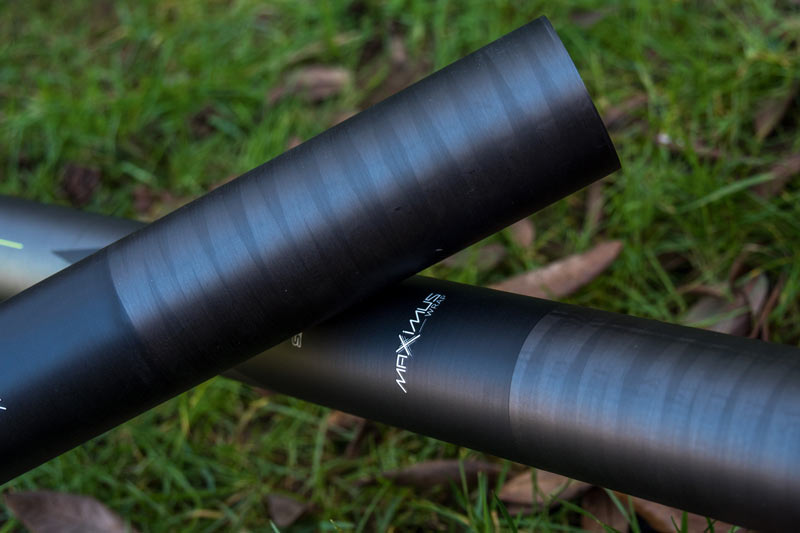 Other features include the Dome Top System, a series of section-protecting nose cones that prevent unnecessary damage to sections. The S-Slide finish is an interesting feature too and is Middy's excellent pole finish. The pole has a textured finish to it, which gives you lots of grip even when the pole is going through that awkward wet to dry phase. The butt section's finish is silky smooth too.
The pole itself comes with the new updated Max22 Karp 2-Kits. These 22-rated kits are strong enough to cope with even the largest fish likely to be found in commercial fisheries. The option is also there for additional extras as Middy produces some excellent top kit options, including the new 'Ultra-Control' kits that are slightly shorter.
The Karp 2-Kits that are supplied with the pole feature the Depth-Line Markers, which allow you to find the key depths on commercial fisheries. The kits feature a reinforced zone at the base ready for drilling and using the excellent Middy Pull-It Side Bush. One criticism would be the lack of pre-bushed kits in the package. This is fast becoming the industry standard and it stands out when a pole doesn't feature it. Middy produces excellent elastication accessories so it would be an easy fix and is something for it to consider in the future.
The package is good and you will find four of the Karp 2-Kits, a Cupp Kit, a safe-zone reversible mini butt for the 11.5m/13m section plus a pole holdall. A competitive spares package that gives you plenty of options for different elastics.
I was expecting big things from this pole and I am so glad it delivered. Middy is right to be proud of this model and having used it for two good sessions now I wouldn't hesitate to recommend it.
RRP: From £1,129.98 (shop around for excellent prices!)
Verdict: A wonderful pole that is a superb addition to Middy's excellent pole range.
Website: www.middytackle.com