Up Close: Milo Redvolution Vitesse Whips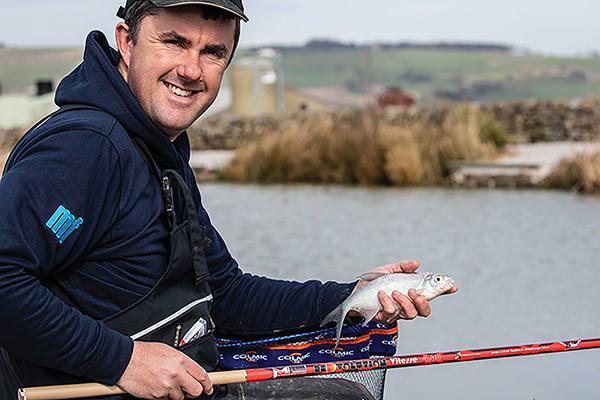 A Top Italian Job!
Tom Scholey takes to the bank with an impressive range of Redvolution Vitesse whips from Milo, and wastes no time in putting them through their paces…
Something a bit different this month – I was sent a set of Milo's new Vitesse whips. At first I don't mind admitting I was a little worried, as I wasn't sure quite what I was going to say about them. A whip is a whip, right? If it has a soft tip and a nice action then that's about all there is to note?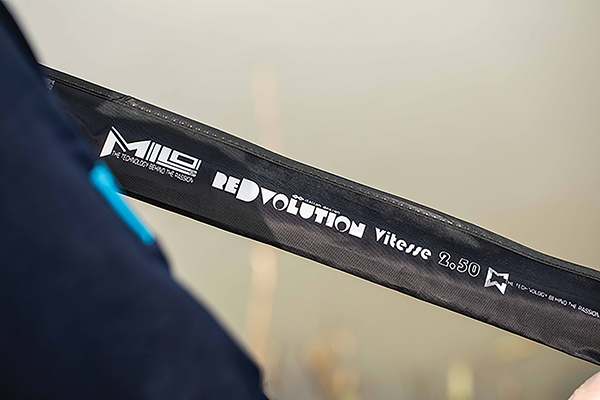 But when I took them out of their cases I realised there would be no shortage of impressive features to mention. As with all areas of tackle development, a number of small improvements have made these the best small fish whips I have ever got my hands on.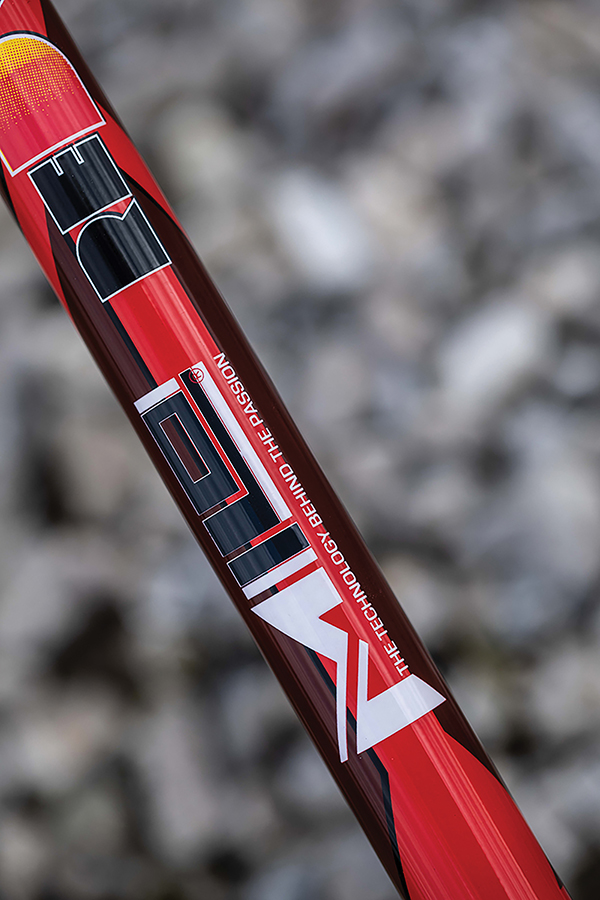 With the rivers now closed, I took the whips to Cow Gap Farm Fishery near Sheffield, a lovely little commercial stuffed to the hilt with roach and skimmers plus more than a few carp and chub (which I must admit I was hoping to avoid.) All the whips were duly assembled and played with – Milo sent them in 2m to 4m, but there is also a 5m model available. I settled on the 4m whip for my session, and several key features immediately came to my attention.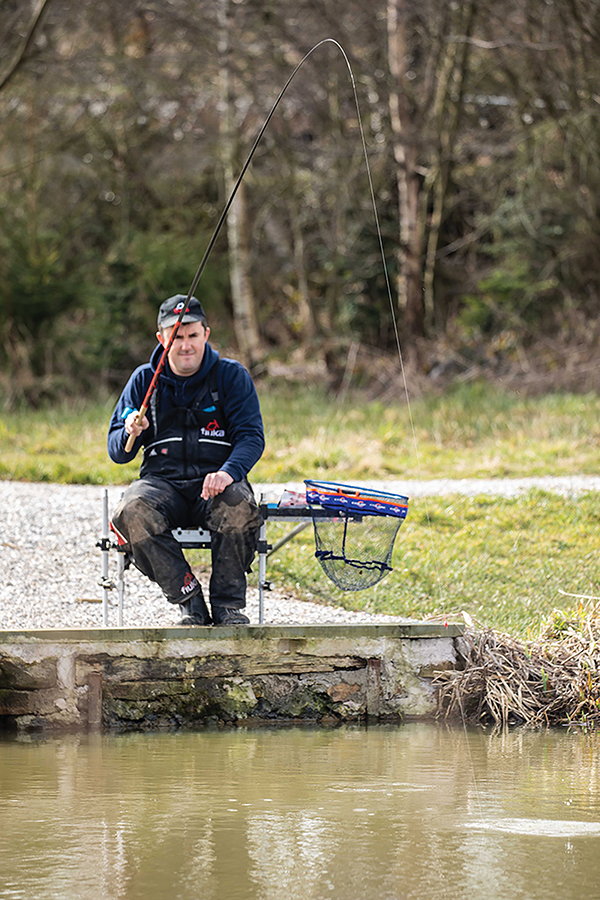 I turned up armed with silicone, and 20lb line – expecting to have to make my own connector – but no need with these beauties!
There is a small blob of resin on the end of the whip, plus a silicone sleeve that slides down to it. The upshot is you don't need to waste hours of your life making a connector for each of them. Simply loop your line over the tip as you would if using a Dacron connector, then slide the sleeve over it.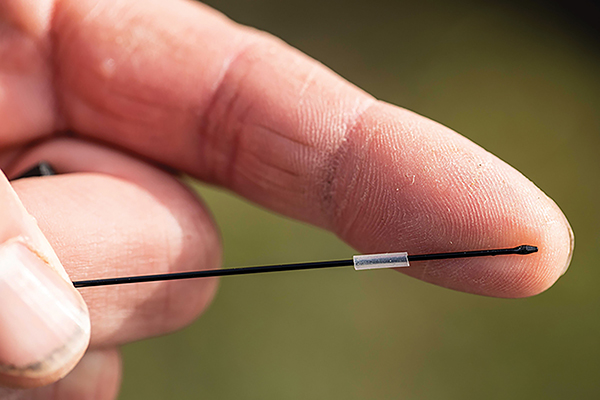 Next up, a couple of features with the butt. Firstly, the rubberised handle. This is much easier to grip than the rest of the whip, and so perfect when your hands might be caked in groundbait and fish slime. Then the butt cap. This was weighted in brass, adding a lovely balance to the whole feel of the whip. In the hand, all models felt almost weightless to be honest. Certainly a cut above most commercially available whip systems.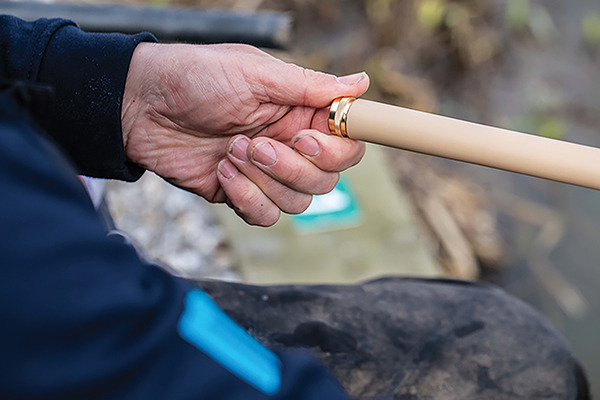 But how would they perform in action? I was about to find out. I fished a little 0.5g rig with a strung shotting pattern, down to a 0.9mm hooklength and a size 16 F1 pellet hook. I had around a metre of water, which gave me roughly two and a half metres of line above the float. I always like to set the rig about 50cm shallower than the length of the whip to allow for the comfortable swinging of fish. Bait choice was a simple bag of Natural Fjuka 2in1 Micros and we were fishing!
Swinging the rig out was effortless thanks to the crisp action of the whip. Soon, the float slid away and we were into a small skimmer. It proved very responsive on the strike, and pleasingly the crisp action of the tip meant the skimmer was easily swung to hand. No trace of any clunkiness as can sometimes be a problem with budget whips. Just a lovely, true action.
I was soon in a nice rhythm, and to tell the truth I think I caught 50 or 60 fish in an hour's fishing, losing only two. This would probably have been even fewer on a natural venue, if we bought barbed hooks into the equation. Whether the fish was half an ounce or half a pound, I was quickly in control.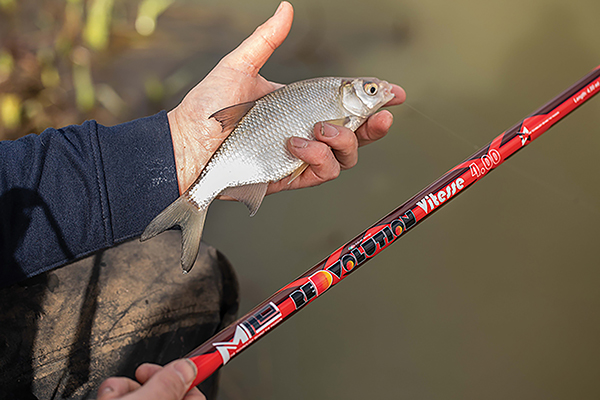 Any dislikes? No, not really. Milo's red livery can sometimes be overpowering in my opinion, but on these whips it is only on the top part of the handle, and so looks rather classy. And after all, being from a range called 'Redvolution' it wouldn't quite sit right if there were all low key.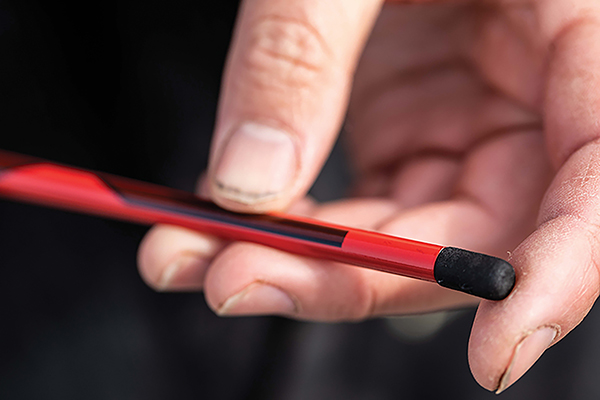 I came off the bank thinking I need to get some – they are just that bit better than the whips I currently use. With the resurgence in natural venue fishing, it's lovely to see such classy items of tackle finding their way on to the UK market. I think these will be very popular.
Milo Vitesse Whips
RRP:
2m - £44.99
2.5m - £49.99
3m - £54.99
4m - £64.99
5m - £74.99