Daiwa Airity Float And Feeder Rods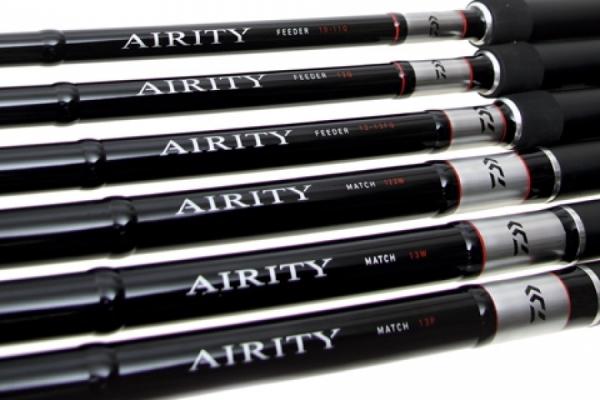 Dave Harrell runs the rule over the latest family of rods to come out of the Japanese tackle giant's factory in Scotland…
Every so often I find myself wondering if tackle companies can actually come up with anything new in terms of rod developments. The raw carbon fibre materials now being used haven't changed significantly for a number of years so the only things that can be worked with are actions and cosmetics.
This new family of six rods from Daiwa actually came about as a result of rods that the Scottish factory developed for the Italian market and, to use Daiwa's words, they 'break the rules of rod making.'
There's no cork in sight on any of these new Airity rods as each one has a tapered butt section, which blends into its own sculptured handle and unique reel seat. This handle is really comfortable to use and it's the same one that I've got used to on the 6m Tournament VIP bolo rods featured in the January issue.
It's not until you actually fish with one of the new design butt sections that you realise just how good they are. Casting with them is effortless and you can feel every movement of a hooked fish right through the blank. I'm not for a minute saying that this 'feel' will hook you more fish or put more fish in your net but where hard-fighting species like carp and barbel are concerned you feel totally in touch with what is happening at the hook end of the gear and that has to be a good thing.
The 12ft two-piece float rod is perfect for most commercial fisheries and specifically designed for pellet-waggler fishing with main lines up to 6lb.
There are two 13ft models – a standard waggler rod that is perfect for lines up to 6lb and a power model that can be used with lines up to 8lb. The feeder/bomb rod is a 10ft/11ft model that is ideal for distances up to 30 metres. For distances past this, up to 40 or maybe 50 metres, there's a 12ft model and for distance fishing and river fishing with strong lines there's a 12ft/13ft model that will handle everything you're ever likely to hook in this country!
All the blanks are constructed from super high-grade Multi Strand Graphite with Bias Carbon V Joints. The float rods feature Fuji SiC guides while the feeder rods have Fuji K Alconite guides. Another nice touch is the useful hook holder. The finish, as you would expect, is exceptional.
I was very impressed with these rods when I first saw them at the Tackle & Guns Trade Show late last year and now that I've had the chance to use them I'm still very impressed. I think you will be too!
Daiwa Airity Float And Feeder Rods

RRPs:
12ft Waggler £375
13ft Waggler £385
13ft Power Waggler £395
10ft/11ft Bomb/Light Feeder £375
12ft Medium Feeder £385
12ft/13ft Medium/Power Feeder £395