Feeder Essentials – As Feeders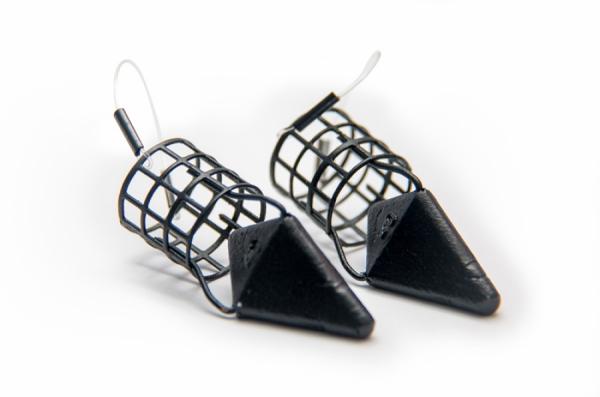 We look at two new additions to the AS Feeder range.
Mini Bullet Feeder – RRP: £1.92
The water is still cold and being able to use a small feeder at distance is a massive edge. For a long time anglers have had to use small, adapted and cut-down rocket feeders, but no longer as AS feeders has developed a Mini Bullet Feeder.
At 20mm by 20mm (or three square) these feeders are perfect for those days when hardly any bait is needed in the winter or when casting regularly is the way to get bites.
The lead design means that these feeders fly like… well, bullets as they cut through the air nicely. Available in 30g, 40g and 50g, long distances can be achieved with ease.
The Big One – RRP: £2.72
At the opposite end of the scale we have The Big One! At 48mm by 60mm this is a large, distance feeder, perfect for feeding at the start of the match or even when topping up the swim.
Available in 20g and 30g, the base-loaded feeders fly extremely well considering the payload they deliver.
Can be used on a heavy-duty feeder rod or on a separate feeding rod, which is all the rage these days.
This style of feeder can be hard to get hold of so having these now readily available will please a lot of anglers out there.
Available at www.feederland.co.uk
Verdict
Brilliant feeders that are well designed and built to last.