Frenzee Fxt Match+ 8ft 6in Feeder Rod On Test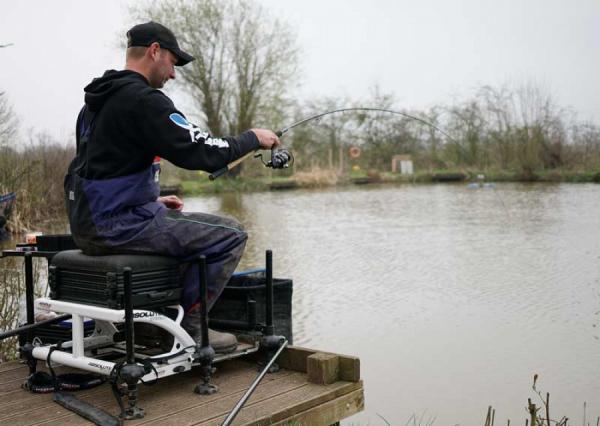 Assistant editor Jake Fowles gets out on the bank with Frenzee's FXT Match+ 8ft 6in Feeder rod.
Over the past year or so I have declared my admiration for short-length feeder rods. Of course, these pint-sized weapons are not a particularly new thing on the scene, but in my opinion – and evidently that of tackle companies alike (judging by the amount of these rods cropping up in their catalogues) –now more than ever they have a place in the armoury of the modern match angler. Not just since the rise of F1 fishing, either; yes, the soft action of these rods does lend itself perfectly to targeting species such as F1s, as well as skimmers, but in actual fact they are so much more versatile than they are often given credit for.
It is from the Frenzee stable that I have received today's subject, the FXT Match+ 8ft 6in Feeder rod, and have decided to give it a thorough testing at the lovely Alvechurch Fishery near Bromsgrove. The venue's Horseshoe Lake seems like a perfect place to plonk myself down for the test ahead – a central island runs the length of the lake at a distance of just over 20 metres, with lots of little holes, points and crevices over on the far bank for me to aim at.
The carp in the lakes at Alvechurch are some of the hardest fighting I have come across, so along with the potential of hooking a barbel or two the FXT Match+ rod should have its work cut out.
Plan Of Attack
There is nothing fancy about my setup today, nor is there with my bait tray. A pint or so of the fishery's own micro pellets softened in water should be plenty for the short session for moulding round a small inline Method feeder, while a selection of different dumbbell-style hook baits give me plenty of variety, and something in my selection is sure to take the venue's population's fancy.
I have teamed the FXT Match+ up with another Frenzee product, the company's FMR reel in a 3000 size, and loaded it up with a 6lb breaking strain reel line. This is at the top end of the rod's 3 to 6lb line rating and plenty strong enough for anything I am likely to hook.
At the business end I see no need in messing about and have opted for a 4in, 0.15mm diameter hooklength featuring a size 14 Guru QM1 hook with a hair-rigged bait band, in which I will house a dumbbell hook bait in varying colours, depending on the fish's preference on the day.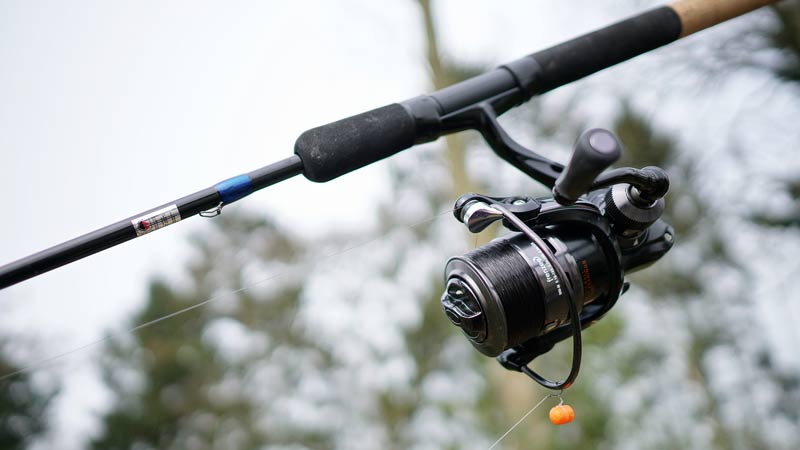 A nice combo, wouldn't you say?
On Test
If there's one thing above all else that I love about these short rods it's their ability to make even the most average of casters look as though they were born with a rod in their hand, made evident as I proceed to drop my feeder within an inch or two of the island.
It's not long after I drop the tip of the rod down on my rod rest-come-keepnet that something takes a fancy to my 8mm orange Juice Wafter, which results in a positive wrap round of the rod similar to that of Method feeder bites of old. By simply keeping the rod nice and low as I continue to wind the fish in I am able to bring it into netting range before lifting, which results in the fish popping up at close distance before slipping the net under my first carp of the day.
This continues to be the theme as bites come within seconds of my feeder landing in the swim, an orange Wafter definitely the most fancied hook bait on the day. Despite the hard-fighting nature of the venue's stock, the rod copes gallantly with each and every one and despite its short length and the slim profile of the blank offers plenty of backbone and a lovely through action to help turn and guide fish towards my waiting net.
This was never put to the test more than while battling my first barbel of the day. In true barbel style its main charge took place as I felt I had things under control, only for it to make a dive for my platform legs and beneath my keepnet. Despite having the Frenzee FXT Match+ bent double I was able to use the full extent of the rod's power to pull it away from danger, get its head up and guide it into the net. Such was the confidence I had gained to this point in the session that I didn't think twice about putting this level of strain on the rod.
It wasn't just the bigger of the lake's species that got in on the act either, as skimmers and ide both found themselves victims of the trap I was setting. Of course, the soft tip helped to steer these towards me effortlessly, while also playing a role in reducing the chance of hook-pulls by absorbing the lunges and nods of the fish I hooked. I opted for the lighter 1oz tip from the two provided, with the 1.5oz option in reserve to help make the rod a little more 'pokey'.
My final fish of the day is one that is definitely worth waiting for and almost as soon as it is hooked on the far bank I am able to see what it is, as flashes of white keep appearing as a beautiful ghost carp does its very best to cause me problems. First a trip round the small sunken island to my right, then back towards an overhanging tree on the peg to my right, but after a spirited fight it ultimately gives itself up – a stunning fish to end the day.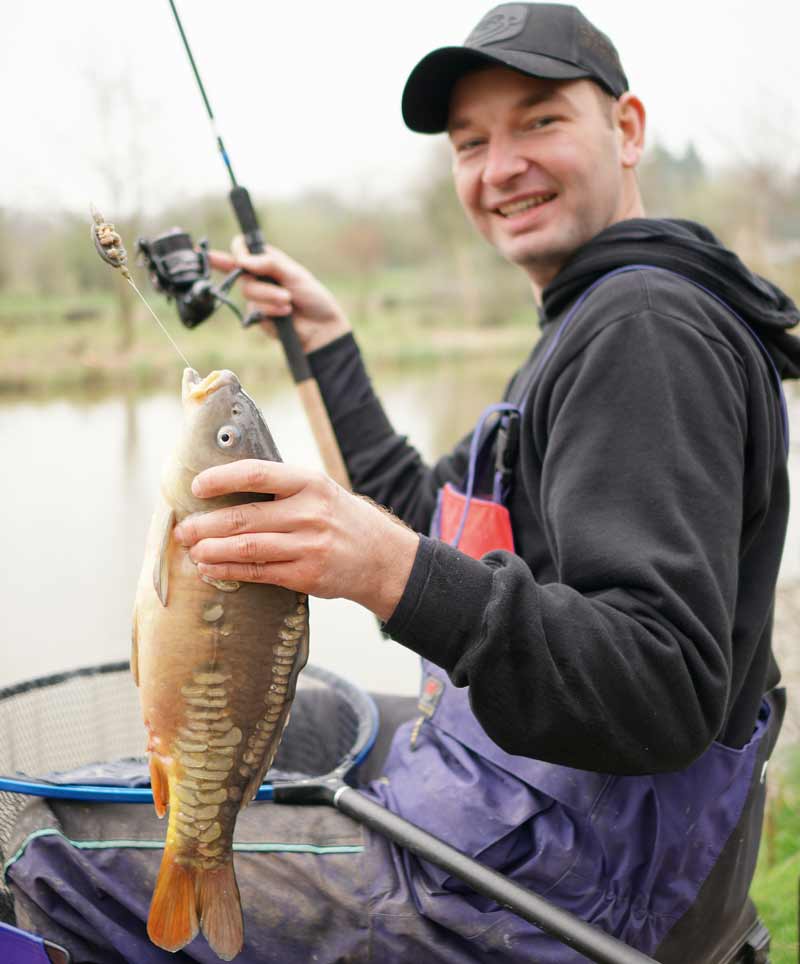 Yes, he can use a rod.
The Verdict
It has to be said that for fishing these sorts of venues, with short casts into open water or up to islands, or even narrower snake-style lakes, these rods are spot on. In fact, I wouldn't see the need for carrying a longer rod in this sort of situation.
The compact nature of these two-piece rods, as well as their ease of use, make them a massive convenience whether a seasoned rod-and-reel angler or somebody who doesn't reach for a rod unless there is no other choice. The FXT Match+ is the perfect tool for all of your short-range bomb or feeder work and at a penny under £80 you're not going to break the bank to get your hands on one either.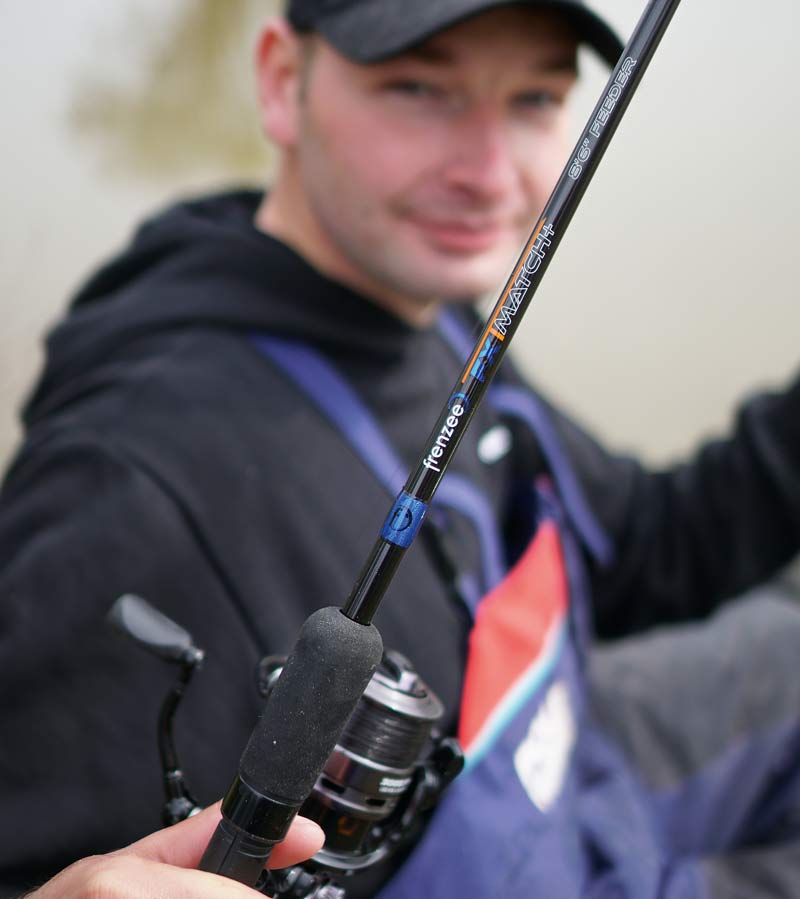 Jake gave this setup the thumbs up.
Tech Spec
FXT Match+ 8ft 6in Feeder Rod
• Supplied with 1oz & 1.5oz carbon tips
• Rod sleeve supplied
RRP: £79.99
FMR MK2 3000 Reel
• Front Drag
• Tensioned Backwind (PBS – Precision Braking System)
• Spare spool
• Gear ratio 6.2:1
RRP: £84.99