Frenzee Precision Rods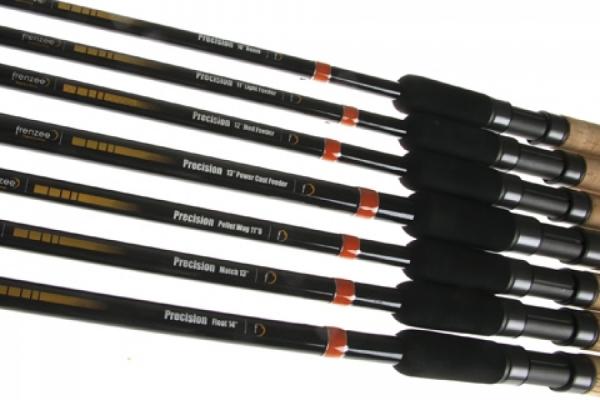 After developing a successful range of gear that all started with pole pots, the Frenzee design team has now turned its attentions to rods. Dave Harrell checks out the initial range of seven…
Having worked in the fishing-tackle industry myself in a previous life, I know more than most exactly how difficult it is to break into the marketplace with a new range of angling products.
I went through the exercise just over 20 years ago when I created the MAP brand, and while taking on the big boys in the industry was challenging I sometimes found myself wondering if I could make products like rods any better than (or even as good as) what was already available from long-established companies. Thankfully, at that time at least, the answer was yes and sales were good for several years before the big influx of rods from China put paid to any competitive developments I could achieve in the UK.
Now, 20-odd years later and in the position I now find myself in, I find it interesting to see how 'new brands' go about the same challenge.
When Frenzee first entered the fishing-tackle marketplace it did so with a successful range of pole pots, which fitted in perfectly with the company's knowledge of plastics and development background.
Next up Frenzee turned its attentions to pole floats, which were met with favour by many top anglers, and last year a range of quality poles, luggage and clothing was successfully launched.
Now, with the help of consultant Andy Neal, the company has turned its attentions to rods. Regular readers of this magazine will know that Andy has become one of the top commercial anglers in the UK, and by using his knowledge and know-how Frenzee has developed an excellent range of rods to cover a multitude of tasks and venues.
Al the blanks are constructed from 36-tonne high-modulus carbon, and starting at the shortest end there's a 10ft Bomb Rod, which is designed for short casts up to around 20 metres on commercial fisheries. It comes with three carbon tips – ½oz, 1oz and 1½oz – and has an excellent through action that will cope with carp as well as silver fish.
The 11ft Light Feeder rod is similar in action (although a bit longer for casting distances up to 30 metres) and comes with the same tips. This one can be used for bream or carp fishing, and fish to over 20lb were caught in tests with prototypes!
The 12ft Medium Feeder, designed for casting distances of around 40 metres, comes with 1½oz, 2oz and 2½oz carbon tips and again it's an excellent rod for bream or carp. It will also double up as a river feeder rod for venues like the Warwickshire Avon.
The 13ft Power Cast Feeder is a beast of a rod that's designed for long chucks with big Method feeders, or on big rivers where barbel and chub are the quarry. It comes with 2oz, 3oz and 4oz carbon tips.
On the float-rod side of things there are three models to choose from. There's an 11ft 6in Pellet Waggler, which is perfect for most pellet-waggler situations, and 13ft Match and 14ft Float models. I'd class both of these rods as all-round designs, which would be equally at home on a river as on a commercial.
So, the big question is, can Frenzee become a major player in the match-rod market? Judging by these first offerings, the answer is yes.
Frenzee PRECISION RODS

RRPs
10ft Bomb £139.99
11ft Light Feeder £139.99
12ft Medium Feeder £149.99
13ft Power Cast feeder £159.99
11ft 6in Pellet Waggler £139.99
13ft Match £149.99
14ft Float £149.99