Garbolino G Max Feeder Rods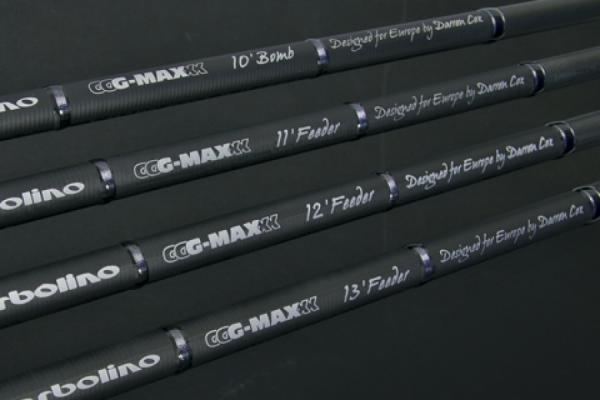 When anglers of the calibre of Darren Cox and Steve Cooke work together to design a rod range you can probably expect something pretty good. Dave Harrell takes a look at their work…
Match rod actions are something that have interested me for many years and having been involved in rod designs and developments myself in a previous career I like to think I know a bit when it comes to passing judgement on them.
This new range of four feeder rods has been developed by Darren Cox and Steve Cooke, two incredibly successful feeder anglers in their own rights with a long list of match wins behind them on various waters around the UK, so as you can probably imagine I was looking forward to having a look at the finished products when they arrived at the Match Fishing office.
My first reaction when I took all four rods out of the bags and set them up was one of surprise, as I'd expected to waggle another set of soft, parabolic through-action rods, which seems to be the current trend with virtually every rod producer. What I actually found were lightweight blanks that felt very stiff in action. Maybe too stiff even? I needed to examine them more.
First test was to get Joe Carass hanging off the tip end of the rods and playing the part of a carp. The action suddenly felt very different and not as fierce as I'd feared, so it was now time to put some line through each of the blanks and test them for real.
By doing this we discovered a family of rods that were quite the opposite of the pokers I'd first feared they might be. With line through the rings the multiple tapers within the blank revealed actions that are perfect for many of today's commercial fisheries, especially those where carp are getting bigger.
Where these blanks score over softer, parabolic-actioned rods are that they are brilliant for accurately casting loaded Method and groundbait feeders to the right place every time. They're also excellent for playing big fish out fairly quickly, which is something that you need to do on places like Larford, Boddington and Earlswood Lakes where you will probably be using 0.20mm or 0.22mm lines and decent-sized hooks. At these places landing a big carp on a soft-action rod can take forever, so a stronger tip-to-middle action is definitely a plus as you'll control a double-figure fish easier and land it quicker.
The V-NET Spiralite Carbon-constructed rods come in four lengths. I reckon the 10ft model will be good for distances up to 30 metres, the 11ft up to 40 metres, the 12ft up to 50 metres and the 13ft 60 metres and beyond.
These rods are very different from what you will normally find on the rod racks at your local tackle shop and I imagine your first reaction when you pick one up will be the same as mine was. To that end, make sure you take a loaded reel with you when you go to try them as you will discover blanks that actually work much better than they feel without a reel on, and I predict Garbolino will sell a load of them this year!
Garbolino G-MAX Feeder Rods

RRPs:
10ft £189.99
11ft £219.99
12ft £229.99
13ft £239.99