Garbolino G Max Float Rods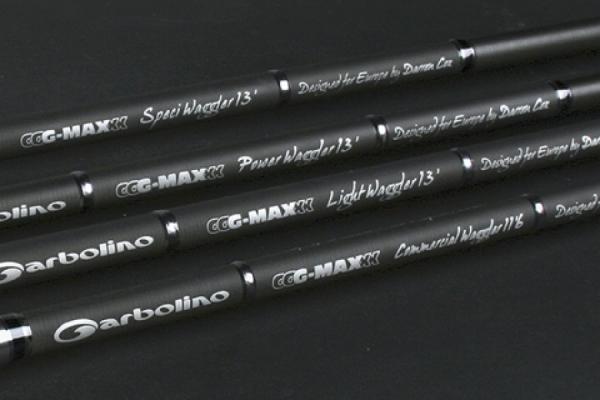 The G-Max feeder rod range was a massive hit in the Match Fishing office, so when the float rod range came in we all got a bit excited! But are they any good? Joe Carass took a closer look…
After being hugely impressed with the G-Max feeder rods that we tested a couple of months ago I could not wait to get my hands on the new float rods from Garbolino. I have long been a fan of Garbolino rods having used several of them from the Super G range for quite a long time. They have always been great value and top performers, so when Garbolino's main man Darren Cox told me that these new offerings were in a different league then I must admit to getting rather excited!
First up in the range is the 11ft 6in Commercial Waggler. This rod is a two-piece model that has been designed for commercial-fishery situations. It is a bit different from the norm, though, as most pellet-waggler rods these days feature an extremely soft action without having the power to cast anything other than short stubby wagglers.
The G-Max, however, still has that lovely fish-playing action that is needed when playing big carp close in, yet somehow retains a stiffness that allows big wagglers up to 20g to be cast with ease.
The quality of the action is all down to the V-Net Spiralite carbon that has been used on these rods, and they truly are wonderful blanks. This seems strange as the rods appear extremely stiff on first inspection, but as soon as you hook a fish on one they produce a lovely through action. It certainly shocked me, as I was a little worried that the rod might be too stiff – I was wrong!
What is useful is that Garbolino has also produced a comprehensive range of 13ft rods to complement the 11ft 6in. The three-rod 13ft range is available in Light, Power and Speci models.
The light rod is outstanding! It is very much a traditional model that is best suited to fishing for silvers on traditional methods. It is a fantastic rod for fishing with standard wagglers, using hooklengths as light as 0.08mm for quality nets of roach. That's not to say that this rod is only capable of catching small fish, though, because these soft-actioned rods can be fantastic for carp fishing too.
Many anglers now realise that soft rods are great for playing carp, so if you fall into this camp then this rod will be perfect for you.
The Power model is much more of an all-round tool, suited to the angler who is looking for a 'jack of all trades' rod. It will easily cast floats up to 12g and in the right hands could cast bigger floats too.
My only gripe isn't with the rod itself, more with the labelling of it as a power rod. This isn't really an issue in terms of performance, but this certainly isn't a power rod and is much more of an all-round tool capable of everything, from catching 200lb nets of carp to 10lb of soft-mouthed skimmers.
The Speci model is the next step up in the range. This rod is awesome, with loads of power through the middle allowing the biggest of wagglers to be cast with ease, yet it still retains a fish-playing action that can normally only be associated with light rods.
The blank is geared to catching big carp but for any anglers who do a lot of chub and barbel fishing then this would be a great bit of kit for that too. The rod seems to have the right trade-off between having enough power and the right action.
I will simply say this – I love this range of rods! There is something for every type of angler and every sort of fishing. The rods feature quality fixtures and fittings throughout and the build quality is fantastic, so they will last forever. They aren't cheap, but the best never is!
Garbolino G-Max float rods

RRP:
• 11ft 6in Commercial Waggler £179.99
• 13ft Light Waggler £225
• 13ft Power Waggler £225
• 13ft Speci Waggler £225