Preston Innovations Pr 400 Series Hooks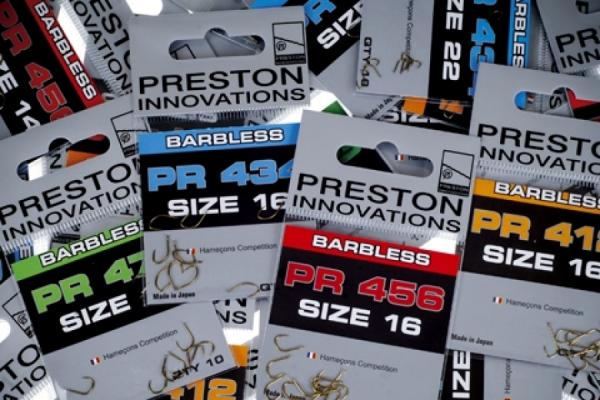 Joe Carass takes a close look at a new family of hooks that is already gaining favour with many top anglers on the match circuit…
Even though I'm very young (well, compared to editor Dave Harrell) my angling career stretches over more than 18 years, and the original Preston PR range of hooks seems to have been available for as long as I can remember! There were many cult hooks among that range and I've had loads of success using several of the various patterns available. They were hugely popular but, as with all things, technologies move on and hooks can be produced nowadays that are even better than when the original range was first produced.
So, having used so many of the old PR range I couldn't wait to see what the lads at Preston had come up with in their new range. It comprises five hook patterns, which is quite a small range, but it complements the existing PR competition range of barbed hooks and the PR eyed range perfectly.
The new PR 412 is a bronze, long-shanked medium-wire hook that's not too dissimilar to the old PR 23. They look absolutely perfect for light commercial situations where you might be using maggots or pinkies for silvers and F1s and are available in sizes 16, 18, 20 and 22.
The next pattern is the PR 434. This hook is the perfect all-round commercial-fishery pattern as it features a lovely curved shape and slightly inturned point. It's a very popular shape and I can see it becoming my first-choice commercial hook! It's available in sizes 12 to 22, and within this range of sizes almost every type of bait can be used.
The PR 456, available in sizes 12 to 18, is the only forged hook in the range and it's super-strong, but also nice and lightweight. It looks like a great pattern for heavy-duty carping and features a nice round bend and short shank.
If you're after a good big-carp hook the PR 478 is the one I'd recommend you to try. It features a very wide gape, short shank and inturned point and is available in sizes 10 to 18. This hook looks to be spot-on for any margin fishing situations or when large baits, like double worm, cat meat or paste, need to be used.
The final hook in the range is the PR 490 and for me this is the best hook of the lot. It is the perfect shape for light pellet fishing for skimmers, F1s and small carp. It is also a very lightweight nickel pattern and I know that it is Match Fishing columnist and Parkdean Masters Champion Lee Kerry's hook of choice when targeting F1s. From personal experience of using this pattern I've found them to be deceptively strong and great when used with elastics up to 11H Hollo. This pattern is available in sizes 12 to 18.
All in all I really like the range, as the five new patterns will cover virtually every situation you are likely to encounter. The quality of these new hooks is excellent and I'd recommend you give them a try!
RRP:
£1.20