Sonubaits Chocolate Orange Range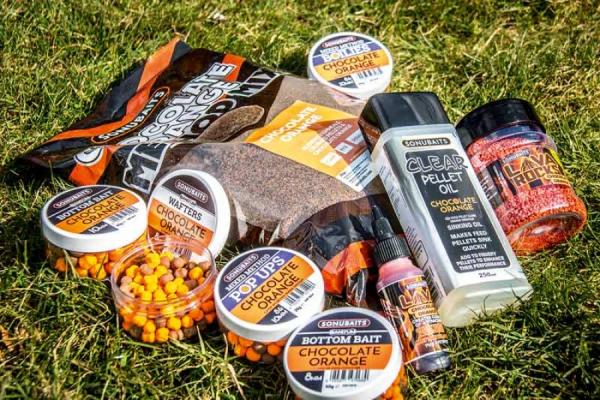 Sonubaits has been a huge force behind the fishmeal groundbait revolution of the past decade. It has produced no end of fantastic mixes, including some of the most popular groundbaits available today such as Match Method Mix and F1.
Every year we look forward to what Sonubaits will release, as the baits are always top drawer no matter what they are designed for. The latest range of baits that we are looking at is the Chocolate Orange series. Let's have a look at the groundbait first – Chocolate orange Method Mix.
As the name suggests, this mix is aimed at Method-feeder work and the stickiness has been ramped up so that it is foolproof to use around the feeder. Whether the venue is deep or shallow this mix has been designed to work.
This is a strong fishmeal mix that is full of various different ground pellets and fishmeals that combine to make a groundbait that clings to the Method throughout the cast. Better still, once on the lake bed the mix breaks down evenly and quickly.
Of course we bet you are all wondering what the mix smells like. Well, it has a lovely chocolate aroma but crucially it still has that fishmeal edge that is so important on today's fisheries.
Another nice touch is the flecks of orange that run through the groundbait. These nice hi-viz particles help draw fish in and offer a visible attraction as well as that fishmeal and chocolate attraction.
To complement this impressive groundbait is a range of hook baits. They come in a range of pop-ups, bottom baits and wafters and the pots are mixed orange and brown, and available in both 8mm and 10mm. They are super-strong too and certainly smell good enough to eat!
If you want to add some visual attraction to your bait then Lava and Lava Rocks could be for you. Lava is a thick liquid that can be smeared on to the moulded feeder. It then leaches off a powerful cloud that is sure to pull fish.
Lava Rocks are either added to groundbait or pellets that again add a cloud and visual element to your bait.
Finally we have the Clear Pellet Oil in Chocolate Orange flavour. This is a unique sinking oil that when added to pellets, helps them sink quickly – perfect for adding to fishery pellets.
This is a nice range of baits that will definitely be a hit among feeder and float anglers alike. As with all of the Sonubaits groundbaits, Chocolate Orange is incredibly easy to mix and use and all of the various bits in the range are just brilliant.
Verdict – A brilliant range of baits using a popular flavour.
RRP: From £3.99