Guru Fusion Accessory Boxes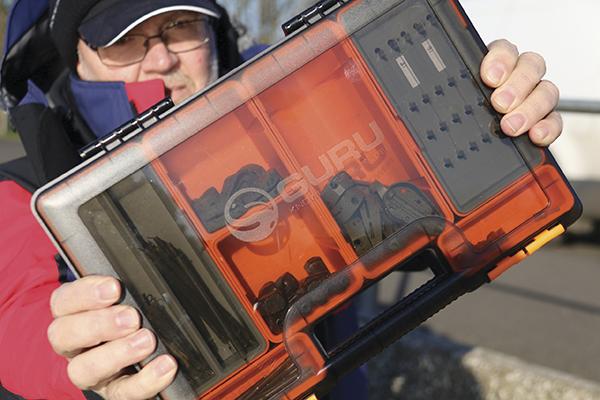 With the surge in popularity of feeder fishing comes the inevitable increase in the amount of feeders that many match anglers will now carry. Methods, hybrids, windows, cages, bombs, each has its use and you can't afford to leave any at home… which is where this little gem comes in. Yes, we can hear what you're thinking: why pay all that money for this specialised item of tackle to keep your feeders in when you can get a perfectly adequate tool/screws storage box from a DIY store or homewares shop?




Well yes, of course you can (and we've done so ourselves in the past), but the key words here are "specialised" and "adequate". Being specialised means that everything is designed for a purpose, made so that the relevant gear fits properly rather than being just an adequate way of carrying stuff to your peg.

Also, the build quality on these boxes is superb – the plastic is heavyweight and robust, the heavy-duty catches are durable and the hinges are much more than just simple, easily snapped plastic clips, while the whole thing is protected by a water-resistant seal around the tinted super-strong lid. Remember, there's a reason people often quote the phrase "buy cheap, buy twice".

As for features, each box comes with a customisable (love that word) tray system that includes inserts designed to accommodate EVA hooklength spools (not included) and short Method hooklengths, feeder stems, weights, feeder links – it's up to you! If you want to go the whole hog, Guru Fusion Accessory Boxes are also available separately that are designed to hold smaller terminal items and will fit neatly into the Fusion Feeder Box. There are even sticky labels included so you can identify inserts and hooklengths.

One of the great things about specialised tackle like this is what YOU do with it. Sure, you can watch videos online to see how Guru anglers Matt Godfrey, Steve Ringer and Adam Rooney arrange theirs, but part of the fun (well, a lot of it really) is sorting your box out the way you want it – put this here, put that there, where will these go?




In fact, you may find you easily fill one box with one sort of feeder and need another box for different types. (Other brands of feeder will fit in it too!) Well, not only does Guru do a special Feeder Box, it will soon be releasing a holdall purpose designed to carry three of the Fusion boxes (that's a lot of feeders!), plus an extra pocket for a smaller tackle box or hook boxes and the like.

Obviously if you don't like the Fusion box you ain't gonna buy this and will make do with your repurposed tool storage box and general-purpose holdall, but plenty of people will! Each to their own, we say. We hope to have one in for review soon… can't wait!
WEBSITE: www.tackleguru.com