Sensas 700 Seatbox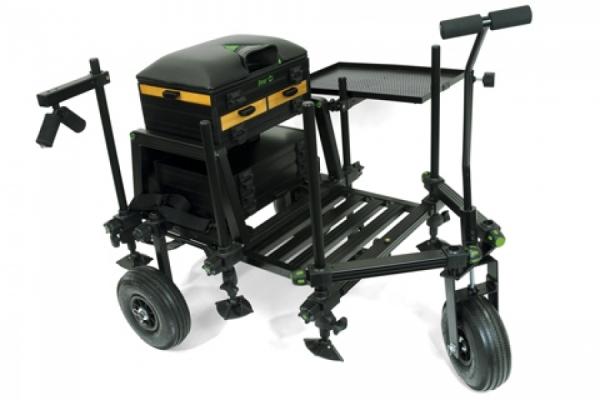 We're in an era when good-quality seatboxes are arriving at our offices every few weeks, so just how good is the new Sensas 700? Joe Carass checked one over to find out…
For the past few years Sensas has been trying to make a name for itself in the seatbox market, and several models have been brought out since the company's first designs. Now, though, I think that a product of a quality synonymous with the Sensas name has finally hit the tackle shops.
The 700 box really is the perfect example of what the modern match angler is looking for in a seatbox. It has a modular design so that trays can be added for extra storage, along with a slide-out rig section where anglers can house hundreds of rigs or various other bits and bobs.
The box is of the popular frame-type design and is ultra-stable thanks to its six 25mm telescopic legs. The legs are nice and long so that you can get perfectly level and still have plenty of leg space to house all of the brackets and side trays that you might need. The footplate slides in and out on runners so works nice and smoothly. There's also a small bankstick on the front of the footplate for your keepnet.
Above the frame the box has a four-drawer unit, which includes two front drawers and two side drawers. The side drawers may look like one of full-length design, but they are split in the middle. This means that they hold the same amount of gear but are much easier to access. There are also two winder trays underneath the quality foam seat.
As well as the standard box, Sensas has put together a fantastic accessory pack to go with the box as an optional extra. The pack includes a wheel kit, spray bar, balling arms, two telescopic legs, side tray, keepnet arm and three other accessory bars. All of these items come in a fantastic bag; this houses all of the individual accessories tidily, without cluttering up your carryall or even the back of your car! There really is everything you could need in this package and it's something I expect other manufacturers to pick up on in the future.
All in all this is a fantastic product and Sensas really has thought about what the angler needs and has covered all the bases. The box has loads of room and can also be added to if you require more trays, and the accessory pack offers all the little bits that you would end up buying anyway. Top marks to Sensas!
Sensas 700 Seatbox

Box only RRP: £399
Accessory pack RRP: £299
Box and pack RRP: £599