Colmic One Evolution 2.0 Seatbox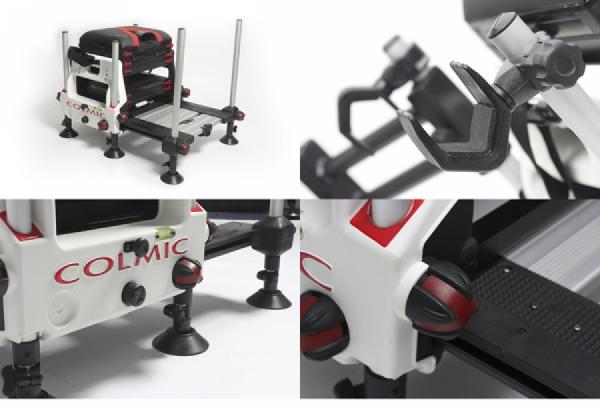 The Italian Stallion! Match Fishing shines the spotlight on the One Evolution 2.0 seatbox brought to you by Colmic.

It seems that seatboxes are THE show-stopping item for tackle companies to release at the moment, with a host of new pews set to hit the market. Colmic is determined not to miss the party and means business with its new £899 seatbox, the One-Evolution 2.0. Following the success of Colmic's Airon One and Real One seatboxes, the Evolution 2.0 retains many of the elements of these boxes but is lighter and also offers a fully modular tray system, ensuring that you can arrange your setup to exacting standards. Key Features The box features six 30mm telescopic legs, with the front two legs being slightly longer than the back four. Not only does this allow them to be extremely versatile but ensures they are perfect when faced with steep banks on rivers or canals, as well as allowing you to place them in shallow edges on commercial fisheries. One very interesting feature in the design of the box is the leg locking system. Rather than six standard knuckles, the back four legs slide through a much larger area of the box's main frame and are locked in place using a 360 clamp system, rather than screwing directly into the leg. This makes for a sturdy setup due to the limited movement. Your height won't play a part in the seatbox's personal suitability either.
With the inclusion of a height adjustable top unit you can adjust it to suit without having to add extra units. Consequently, for potential younger investors there would be no need to upgrade to a larger seatbox as you grow; instead, with the use of an Allen key you can simply adjust the height. Two spirit levels are located at the front and side of the seatbox, allowing you to set your box down perfectly level every time, while oversized rounded grip handles make tightening any screws extra easy and reduce any risk of getting your rig tangled up around them. Included In The Package... In the package you receive a cassette unit supplied with two shallow rig trays and a carry lid. A padded pole seat is also supplied in which there is a winder tray and full set of winders, a double front drawer unit perfect for all of your smaller terminal items and a 25mm shallow unit. Positive clips with tapered stainless steel pins give you the confidence that the units are securely locked in place.
Not only does this give them a quality feel but makes it very difficult to accidentally close the unit on a closed clip, which on other systems could see the piece break. The new modules supplied with the One Evolution 2.0 are fully waterproof, so there's no need to worry that your stored rigs and tackle will get ruined when standard English weather kicks in! Further to the extensive unit setup you will also find a range of attachments included within the overall package that you receive. Adjustable balling arms, an umbrella bracket (featuring a similar locking system as the box's legs, making it super-stable) and a large side tray and bump bar can be added and removed when needed. Transportation While there isn't currently a specific barrow being displayed in the Colmic catalogue for the Evolution 2.0 we couldn't help but notice there were definite attachment points on the underside of the seatbox. A bit of pressing and our Colmic contact soon let it slip that there is soon to be a wheel kit made to measure and that in the coming months we could be sure to expect a further addition to the already impressive system!
tech Spec
Spec• Colmic One Evolution 2.0 Seatbox Deluxe Package RRP: £899 Package includes: Adjustable balling arms, umbrella bracket, bump bar and large side tray