Up Close: Sonubaits Chunky Fish.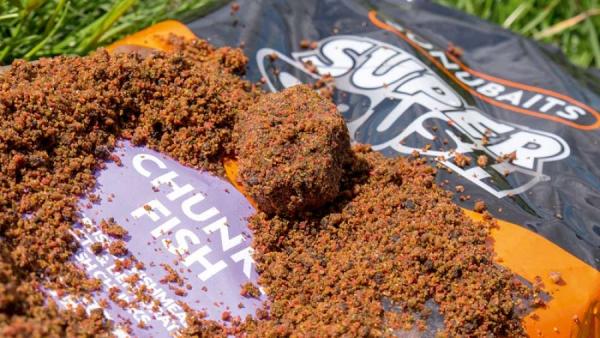 Earlier this year we got the chance to have a walk around the Sonubaits factory. I always like to see what actually goes into our favourite baits; I love to see new ingredients being used in bait and have always been a fan of nice natural ingredients as opposed to artificial flavours and smells.
Ian Day and Adam Firth were talking us through the new baits for 2018 in the bait lab when I noticed some peculiar looking dried fish sat there. Ian quickly spotted my intrigue and with a smirk on his face explained that it was dehydrated fish and was a new natural ingredient. It absolutely stinks, and looked to me like the perfect ingredient for a proper fishmeal groundbait!
The groundbait to be blessed with this stuff? Chunky Fish of course. Just open a 2kg bag of this stuff and the smell will immediately hit you. A pungent fishy aroma that just screams "fish catching".
The name suggests it isn't a fine mix, and the groundbait is quite a coarse texture with loads of different shapes and sizes and colours. It's just awesome in fact.
It is a strong mix though, so be sure to use this when the water is warm and the fish actively feeding. This is definitely a big-fish groundbait and if you are fishing for large bream and carp then it is a great choice. You can definitely use it on harder days but it would be a good idea to cut it with one of the other Sonubaits mixes such as Supercrush Expander.
As with all of the Sonubaits mixes, Chunky Fish is incredibly simple to prepare. The company suggests adding two pints of water to the full 2kg bag. But even if you add too much water you can usually leave it to stand for a bit longer and the groundbait will be perfect again. A final tip is to mix this the night before, it gives those dehydrated fish particles a chance to rehydrate and really pong!
RRP: £6.75 for 2kg
Verdict: A superb big-fish groundbait with an incredibly potent aroma!