Up Close: Marukyu Natural Attraction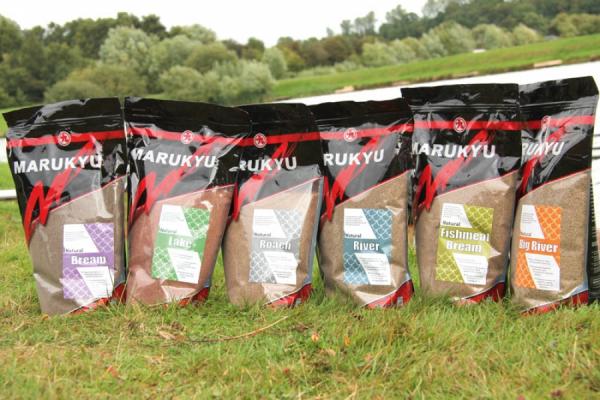 Famed for its range of technical and highly advanced carp groundbaits, Japanese bait giant Marukyu is bringing its immense bait knowledge to silver-fish fishing.
The natural range contains several mixes, each with a slant toward a specific species or approach.
River and Big River are, as the name suggests, designed for river work. The standard River has good binding properties to make it ideal for carrying particles to the riverbed before breaking down smoothly.
Big River steps things up a bit and is an altogether stickier and heavier groundbait. It is perfect for those deep powerful rivers such as the Yare and Wye, when you need to cram the balls with loads of grub for those hungry wild fish.
There are two groundbaits aimed at bream: Fishmeal Bream and Bream. The standard Bream is a lovely sweet mix that knocks up to a lovely fluffy consistency, ideal for feeder work. The Fishmeal alternative adds that all-important fishmeal hint that is so important on some of the bigger bream venues that see a lot of carp anglers, who introduce no end of pellets and boilies.
Lake is a lovely soft red-coloured groundbait. It does hold together in balls nicely and is ideal for balling, but it can also be mixed lovely and soft so that it can cloud the water. This is ideal for roach work but is also good for smaller skimmers.
The final mix in the range is Roach. This is a spicy, aromatic mix that is active thanks to the numerous particles it contains. Ideal for catching all sizes of roach and can be used on its own or when blended with the other mixes. A 50/50 mix of Roach and River has proven to be a great mix for the Marukyu consultants.
A nice feature of the Marukyu natural range is the price. They are supplied in 2kg bags for just £6.25, which is excellent value as far as we are concerned! Better still they work a treat and have been catching loads of fish!
RRP: £6.25

Verdict: A great range for the natural-water angler and great value too!