Used & Abused: Spotted Fin Go2 Groundbaits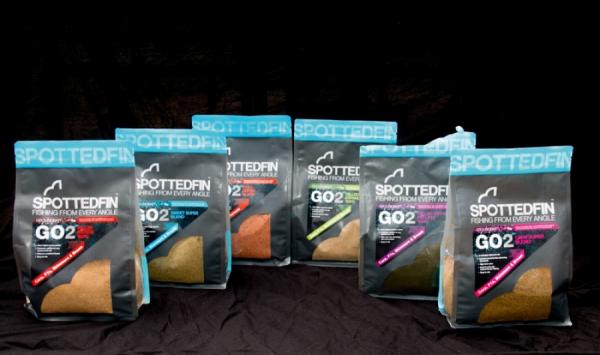 Joe Carass looks at the groundbaits from Spotted Fin that he has used over the past 12 months.
Last year was the first chance that I really got a chance to properly look through the Spotted Fin range. I had been sent some bits to look at and was immediately impressed with what I saw.
Over a year on and I have some real experience with the GO2 blends and have used them extensively with some great results. Here is a quick look at my two favourites from the range.
Without a doubt my number-one favourite is the GO2 Sweet Super Blend. I have spent an awful lot of time on the bank with Simon WIllsmore, and it was hard for me to miss the amount of fish he was catching with this stuff.
When I first opened up the bag I was expecting the usual overly sweet 'sweet fishmeal' groundbait mix. I was pleasantly surprised then when I was greeted with a subtle aroma. This is my main complaint for a lot of so-called sweet fishmeal mixes; they are just a smell rather than a taste. The GO2 Sweet Super Blend is actually sweet tasting rather than just having a sweet smell. If I choose to use a sweet mix I want it to taste sweet as well as smell sweet and this certainly does.
The mix is packed with sweet biscuits, sweet crumbs and quality fishmeals. Everything that's in there is what I would want in there and that is where the Spotted Fin mixes score in my opinion.
Sweet Super Blend has a lovely green colour to it, which I think suits commercial fisheries well, and after a great run of commercial silver-fish results last winter I know for a fact the fish love it! I found it was effective when used on its own but I also had success mixing it 50/50 with Van Den Eynde G5 when the water got really cold. Likewise when the water got warmer in the spring, I added some Milled Betaine Pellets 100% to boost the nutritional value and fishmeal content.
It worked well for me both on the pole and through a small cage feeder when targeting winter skimmers at Meadowlands and Barston. One trick that also worked for me was to have 70 per cent groundbait and 30 per cent leam; this was a brilliant feeder mix when times got hard; it allowed me to keep casting every few minutes without risking overfeeding the swim.
I have lots of faith in the mix and I find it a great base for commercial silvers and I can add a couple of things to it to change it for the different seasons.
The other ingredients that have been an ever present for me are the GO2 Milled Pellets 100% range. Spotted Fin produces Milled Betaine Pellets, which are the strongest smelling ground pellets; Milled Micro Pellets 100%, which is a middle-of-the-road ground pellet, and finally the Milled Expanders 100%, which is a low fishmeal alternative ideal for F1s or cold water scenarios.
I tend to use either the Milled Betaine or the Milled Expander and add them to other mixes to either boost them or change their texture. Milled Expander, for instance, will get a Method-feeder mix to open up really nicely even after a firm squeeze.
The Milled Betaine is a great mix in its own right. It is a heavy mix too and has been proven to work very well for margin work as it takes on lots of water and sits on the bottom.
All of the range is superb, it really is, and these are just a few of the varieties that I really believe in for my fishing.
RRP: From £4.99
Verdict: A brilliant range of mixes from this up-and-coming brand.