Spotted Fin Feeder Super Blend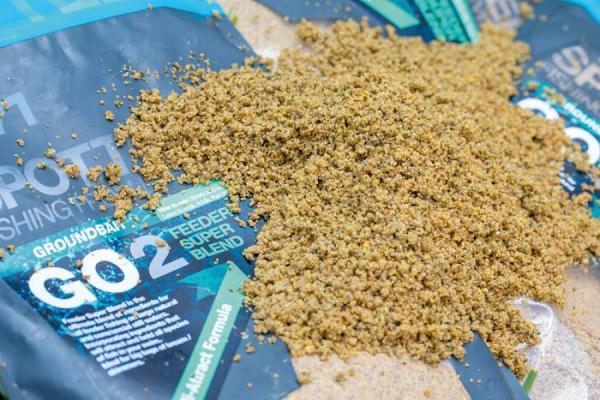 Joe Carass gets the whisk out and checks out the new Feeder Super Blend from Spotted Fin.
It is coming as no surprise that bait companies are now developing specific mixes for feeder fishing. Anglers are demanding more and more feeder-specific tackle and bait and companies are coming up with the goods
.
Here at Match Fishing we have been very impressed with what Spotted Fin has been up to – brilliant bait with quality that is second to none.
The Super Feeder Blend is an interesting groundbait. It is not a fishmeal but it's also not a sweet groundbait, and to be honest it is hard to categorise it as even a sweet fishmeal blend! I guess it is easiest to say it's taken the best bits of all of those groundbaits and mixed them together.
There is a fishmeal content in this blend. Some Pre-Digested fishmeal and Salmon Fry gives it that fishmeal hint – proven attractors for bream. Mix this groundbait up and you may notice a dash of green flecks, yep that's the company's famous Milled Green Betaine too, but not too much.
There is also bread in this mix, high-quality yellow breadcrumb that is expensive! There are lots of other niceties to give the mix a sweet edge, and a secret blend of other goodies that we couldn't prise out of Spotted Fin makes up the rest of the mix.
It is probably wrong to call it sweet – it has a sweet aroma but a quick taste test (yes, I taste all of the baits!) reveals quite a bready flavour that is lovely and mellow.
How does it mix? Well I tried to ruin the groundbait – my staple test to see how easy a groundbait is to mix up. After a good flooding of water a paste-like texture was left. Leaving it to stand for 30 minutes and a push through a riddle and the mix was spot on. Lovely and fluffy with a bit of dampness to it.
A traditional mixing style left me with what I would consider a perfect feeder mix. It breaks down quickly and evenly and even when it is squeezed firmly into a feeder it still recovers and breaks down nicely.
If you are looking to target bream and skimmers on commercials or natural venues then this is well worth a try. It's easy to use, has the right ingredients in it and better still it works!
Verdict: A range of ingredients combine to make an incredible, modern bream groundbait.
RRP: £4.99